Lord West addresses London resilience delegation

Written by Deborah Ritchie
2014-10-10
"The most resilient cities endure because people will defend their homes to the death if they are truly homes, and not just houses." This was the message from former Labour security minister Admiral Lord West, who addressed delegates attending the World Cities Conference in London this week.

Lord West said it may not be the obvious thing that makes the city resilient such as flood barriers, or the number of CCTV cameras, important though those are. Rather, he stressed, it is more the 'soft' aspects, such as whether people actually enjoy living there or not.

Nevertheless, he said there are a number of areas that need to be addressed globally as we move "inexorably towards a world of megacities".

"Clearly cities are a magnet to terrorists," he said. "They can hide much more easily than in a small town and there are limitless targets. Cities are perfect for a spectacular event in the same way as large commercial aircraft. The greatest global threat is from so called 'Islamic terrorism' and this shows little evidence of reducing. But different nations can be threatened from their own specific terrorist groups of many persuasions."

"Good shared intelligence and clever building design and city planning can reduce the threat dramatically but it is unlikely to ever be completely eradicated.

"CCTV in conjunction with smart computer programmes is a very powerful tool in our armoury. They allow such things as identifying almost instantly a package is left and identifies people acting in an abnormal fashion."

As minister, Lord West initiated a great deal of work on security of crowded places. Teams went out to give advice and train selected people how to react in particular to various types of terrorist attack; advice was given on city layouts and architectural design to mitigate against terrorist threats, including a significant amount of work on barriers.

Science and technology, he stressed, are crucially important as we to tackle the problems of security in the urban environment, and more work needs to be done to connect efforts around the world.

"In the UK the Science and Technology Facilities Council (STFC) operates a Defence, Security and Resilience Futures Programme. STFC's aim is to identify and facilitate opportunities to engage relevant capabilities of the UK National Laboratories and university research groups with some of the most demanding and highest priority challenges in national security. Other nations need to link in to this with their similar facilities."

The former minister also warned of the downsides of hyper-connectivity. "Cities are becoming more vulnerable as they depend on ever more complex systems of systems," he explained, "Many of these are interdependent, and subject to cascade failure. It should be possible to map these system inter-dependencies and estimate their probability through node-arc diagrams to assist the computation of failure. This quantified resilience information can guide a strategy of design for resilience through redundancy."

Lord West referred to the following aspects of preparedness that "enable the country, and its major components, to respond and recover effectively in the event of a crisis". Urban resilience strategies, he said, should be able to:

•Identify the current risks, and understand how these are affected by modern networked societies and the interdependence of services essential for survival

•Identify risk drivers for the future, including well-known risks arising from climate change but also the potential interaction of these risks with other, less well-known, sources of vulnerability – most of which are likely to be man-made

• Maintain readiness for the present while building resilience for the future.

•Communicate risk, to enable resilience to be built from the 'bottom- up' avoiding excessive reliance on the resources of central government.

Admiral Lord West was speaking at the World Cities Conference, organised by CIR Magazine and London First.
Related Articles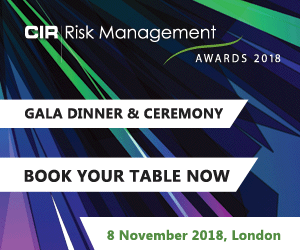 Download the latest
digital edition of
CIR Magazine
Power transmission and distribution risk
Description
Mark Evans talks to Barry Menzies, head of MIDEL ester-based dielectric fluids, at specialist manufacturer M&I Materials, to discover how ester fluids can help reduce the risks associated with transformer applications.
Most read stories...