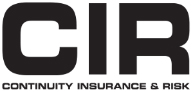 CIR Jobs: Reaching the best candidates for your key roles
CIR is essential reading for risk management, commercial insurance and business continuity professionals. A market leader, CIR has a strong reputation for independent, authoritative reporting and high quality analysis. Now, in-house recruiters and recruitment agencies can reach the best candidates in the sector through the CIR Jobs service.
Your vacancy will be advertised:
on our email newsletter, reaching 27,000+ subscribers;
at www.cirmagazine.com the leading website for the sector; and
in CIR Magazine, which has a circulation of 8,500+ in print and 27,000+ digital.
Contact Steve Turner today to find out how the CIR Jobs service can work for you.
Steve Turner, associate publisher - steve.turner@cirmagazine.com +44 20 7562 2434

Based in the City of London, this team boasts some of the brightest minds in the broking world; from rising stars with great futures ahead, through to vastly experienced veterans of the industry eager to impart their knowledge to the next generation. It has a flat structure, headed by a young management team, who are keen to embrace modern ways of working, new initiatives and a fresh approach to insurance.
Salary negotiable (anticipated £40-60K, plus benefits)
Yorkshire

One of the most respected names in the Yorkshire broking community seeks a quality Commercial Account Executive to inherit a substantial portfolio of commercial and corporate risks.
To £45K plus benefits
Yorkshire

As Team Leader, you will oversee a team of six Account Handlers and Brokers handling middle market and corporate accounts from a range of industry sectors, such as Technology, Professional Services, Engineering and Manufacturing. This team is well-established and is known within the business for its focus on client service and its supportive environment, where all colleagues enjoy working to shared goals and objectives.
€90K, plus €10K bonus & benefits
Munich

Our client is looking for a (Senior) Underwriter to design and integrate the processes regarding quotation, sales pitch, underwriting, pricing and reinsurance. The successful candidate is responsible for the preparation of underwriting reviews/ approvals and the maintenance of portfolio management.
60-100K (+Potential equity)
London (can be home-based)

With its cutting-edge technology already proven to great success in other sectors, this established player is poised to replicate its well-documented triumphs elsewhere in the UK GI space.

In this high-profile appointment, you will work in close conjunction with the International Underwriting Director and other departmental 'Heads of' from across the business, both UK-wide and globally.

The board of this broker takes a very pragmatic approach when it comes to appointing senior colleagues. Rather than being introduced to the business via 'the HR channel', you will initially meet with The Chief Executive Officer at a mutually convenient location, and enjoy a frank exchange of views on the broking market, your ambitions and career to date

This fresh perspective extends to the acquisition of personnel; rather than simply 'filling roles' the MD has been given carte blanch to "find the best in the market and employ them." He welcomes applications from talented insurance professionals from all walks of life, including those high-achieving Account Executives who perhaps don't see themselves as fitting the traditional, London market mould.

This formidable broking house has enjoyed double-digit growth year on year for nearly a decade, and is equally proud of exceeding 95% retention of both clients and employees alike. As a result, it is well placed to invest in established teams of individuals who wish to further their careers by joining a fast paced and dynamic broker.
50, 000 - £59, 999
Midlands

A highly desirable and market-leading insurance business is looking to add to the ranks of its established and successful Underwriting Team with the appointment of a Development Underwriter. You'll be working in a very passionate and supportive team, where people are really rewarded for their efforts.

Reporting directly to the board, you will form part of the Head Office Management Team (totaling 15 individuals, typically 'Heads of' from other Departments), so you will be sure of a high profile within the business. You will be accountable for overseeing the risk management systems and be granted a great deal of autonomy in how you ensure the company has effective strategies, processes and reporting procedures in place to accurately identify, measure, monitor and report the risks the company may face.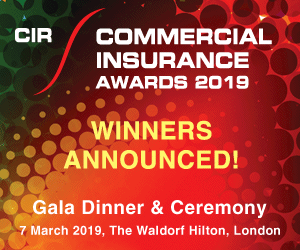 Download the latest
digital edition of
CIR Magazine
Power transmission and distribution risk
Description
Mark Evans talks to Barry Menzies, head of MIDEL ester-based dielectric fluids, at specialist manufacturer M&I Materials, to discover how ester fluids can help reduce the risks associated with transformer applications.
Most read stories...
World Markets
(15 minute+ time delay)
FTSE
7,715.50
+14.54
S&P 500
2,798.03
-4.53
Nikkei 225
23,808.06
+44.69