VIEW: On the change to the discount rate
Written by Ant Gould, director of faculties, Chartered Insurance Institute
2017-04-11
The change to the discount rate announced by the Lord Chancellor – and the subsequent volte face and announcement of another review – wiped millions off insurers' balance sheets, is likely to result in a hike in reinsurance rates and has created an expectation of premium rises for higher risk business. Even risk management body Airmic, not traditionally the first to jump to insurers' defence, chipped in that this was a sorry state of affairs.

It is fair to say that there was and is wide recognition that the existing method of calculation is not perfect but rather than change the system, a new rate was set for using the imperfect formulae. A week later, a review – which should have happened in the first place – was announced. From claimants' point of view it all seems like good news as the lump sums those who are badly injured receive will increase; unless of course you had just had an award and then you may feel a bit short changed (the new rate came into force on the 27th March).

In the short term– and the long run if any new method still hits insurers harder than they expect – there are ramifications on the cost and availability of some commercial insurance as the cost of running an insurance business has gone up. A lot. And as with any business, insurance companies now have to work out how to respond and make up the difference. Options include reviewing whether or not to be in certain lines of business at all; cutting costs (efficiency gains); squeezing the supply chain; and of course passing on the unplanned for costs to customers . So – when will the next change happen?

The government is set to have a six-week consultation on any legislative changes through the impending Prisons and Courts Bill, possibly to avoid the chaos that will be Brexit. The hike in costs and reinsurance rates may be the incentive some insurers need to force them to embrace digital and technical advancements to iron out inefficiency in their businesses. Or not. But business is business. The new rate will in time become the new normal, built into insurers' financial models, investment models, pricing strategies and outlooks. But it will be a bumpy ride for a while.
Related Articles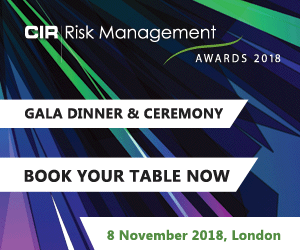 Power transmission and distribution risk
Description
Mark Evans talks to Barry Menzies, head of MIDEL ester-based dielectric fluids, at specialist manufacturer M&I Materials, to discover how ester fluids can help reduce the risks associated with transformer applications.
Most read stories...

Download the latest
digital edition of
CIR Magazine