VIEW: On the future of the risk profession
Written by John Hurrell, chief executive at Airmic
2017-06-05
After nine years as chief executive, I shall be retiring from Airmic this month. During that time, risk management and insurance have changed immeasurably – and I'm pleased to say that change has, for the most part, been positive. One of the starkest developments has been the rising status of risk management. Risk is now firmly on the boardroom agenda, and not just as a compliance 'tick-box item'. Today's C-suites take an active interest in risk management, recognising it as a tool to add value and competitiveness.

The level of risk complexity has also increased profoundly due to technological dependencies, globalisation and dramatically increased transparency. In addition, soft assets have emerged as the most critical ingredient of corporate value, creating a raft of new challenges. For example, boards recognise that they do not have the experience around the boardroom table to truly comprehend the risk implications of their business models and strategies, but the risk governance structures that support them are often siloed and fragmented. Meanwhile, the insurance industry has struggled to maintain its relevance in a soft asset world where most of their products were designed for the world of hard assets.

What does this mean for the future? I believe we will likely see a greater focus on integrating risk governance and embedding risk management into every business function. Risk managers will become risk leaders but not risk owners. Their job will be to do themselves out of a job by mainstreaming risk as a key and critical business function but, in reality, they will be in more demand that ever due to the speed of change in businesses. As a result, the risk profession will continue to shift its focus from risk aversion to adding value through carefully analysed risk taking, a process that will be enabled by the ever-greater availability of big data.

One thing that won't change is the level of professionalism in our business. The UK sets the bar internationally for risk management standards, and this shows no sign of slipping. Our risk profession should feel full of confidence about its future.
Related Articles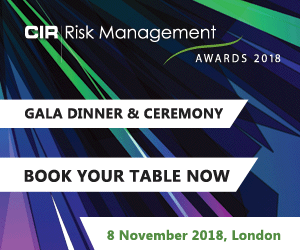 Download the latest
digital edition of
CIR Magazine
Power transmission and distribution risk
Description
Mark Evans talks to Barry Menzies, head of MIDEL ester-based dielectric fluids, at specialist manufacturer M&I Materials, to discover how ester fluids can help reduce the risks associated with transformer applications.
Most read stories...