Strategic moves at Cunningham Lindsey
Written by Editor, CIR
2010-04-22
Following the appointment of new corporate development director, Paul McLarnon, Cunningham Lindsey is promising to bring a new strategic approach to handling claims in the corporate market with a combination of volume claims capability and technical expertise.

The company says its move is in response to research that suggests corporate risk managers - working for the biggest UK-based companies with overseas interests - are looking for a more strategic view of account management.

What risk managers have told Cunningham Lindsey they expect, according to Jonathan Clark, Cunningham Lindsey's technical director, is for claims handlers to focus on the commercial rather than technical impact of a claim while ensuring clear and precise communications to all parties in the relationship.

Clark says: "We found that a key driver for corporate customers was not just to be provided with management information but to learn what it really meant to build responses into individual risk programmes.

"We heard from risk managers that as the risk management roles have developed they are looking for more than just purely technical expertise. Corporate buyers are looking for services that are clearly designed for them and which properly reflect their business and risk objectives."

"There is a greater intensity and need for speed about the claims handling process and businesses - more than ever - need to ensure they have the cash flow to keep going in the wake of an incident. The bottom line is this: the corporate client needs to know their brand reputation will emerge intact from the claims process."

Though Cunningham Lindsey has been operating in the corporate risk market for more than two decades it has now refined its range of services to provide the spread of expertise the sector requires.

This includes having local loss adjusting capabilities available across an international network of more than 60 countries, account management that recognises the interests of each party, leading technology providing high quality, bespoke MI and reports and an overall focus on minimising claims costs.

McLarnon adds: "We are aligning the market leading process capability developed in the volume end of our business with the depth of technical expertise required on corporate claims."

"In practice, this means providing a diverse choice of services and recognises the need for high quality account management and the ability to handle a three-way relationship between insurer, broker and risk manager."
Related Articles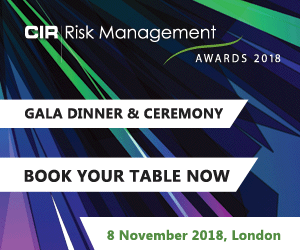 Download the latest
digital edition of
CIR Magazine
Power transmission and distribution risk
Description
Mark Evans talks to Barry Menzies, head of MIDEL ester-based dielectric fluids, at specialist manufacturer M&I Materials, to discover how ester fluids can help reduce the risks associated with transformer applications.
Most read stories...