Quantifying losses tops BI claims challenges
Written by staff reporter
2017-04-27
Difficulty in quantifying losses tops the list of challenges to business interruption claims, according to a survey carried out by US-based risk and insurance association, RIMS.

By taking control of their data, establishing a team and developing plausible business interruption figures before losses occur, risk managers can do much to lessen the confusion and frustration common to these claims process, according to the society's Business Interruption Survey 2017.

It found that just 17% of risk managers were "extremely confident" that their BI values and limits are adequate; 58% who had been through a claim said that "difficulty quantifying loss" was the biggest challenge they faced; and 39% indicated that their existing BI policy provides either insufficient or no coverage for cyber risk. 10% were unsure whether the policy covered cyber risk.

"With a world of emerging risks keeping business leaders up at night, risk professionals must prepare their organizations for the very real possibility that their business might suddenly come to a screeching halt," said RIMS CEO Mary Roth. "The exchange of knowledge and best practices makes it easier for risk professionals to ensure that appropriate measures are taken before, during and after an interruption occurs."

RIMS' survey was carried out among 400 members in November 2016.
Related Articles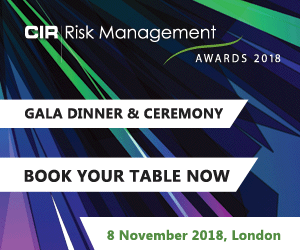 Download the latest
digital edition of
CIR Magazine
Power transmission and distribution risk
Description
Mark Evans talks to Barry Menzies, head of MIDEL ester-based dielectric fluids, at specialist manufacturer M&I Materials, to discover how ester fluids can help reduce the risks associated with transformer applications.
Most read stories...