Arup and Lloyd's Register Foundation launch £10m resilience programme
Written by staff reporter
2016-10-17
A £10 million resilience engineering programme has been announced by the Lloyd's Register Foundation in partnership with global engineering and consultancy firm, Arup. Designed to help make infrastructure more resilient to shocks and stresses, the programme with see the team working with businesses, engineers and researchers to develop standards and build networks of learning and best practice across such sectors as energy, transport, food and water.

Led by programme director Dr Nancy Kete, former managing director of the Rockefeller Foundation, the team will explore how resilience engineering can become a mainstream discipline, through channels such as establishing its own standards, embedding incentives for businesses, developing professional qualifications and being a catalyst that drives international knowledge sharing networks.

"This is an ambitious programme aimed at global change in thinking and practice, so that all those who own, design, and manage critical facilities like energy and water systems, regularly think beyond the fence line," Kete said. "These systems will be valued for how they contribute to the safety and well-being of society. It is no longer enough to commission and design infrastructure not to fail – the traditional risk management approach. These facilities also have to be guaranteed to protect property and people, to provide essential services, and to enable the flow of goods, services, people, and knowledge under a wide range of adverse conditions".

Dr Ruth Boumphrey, Lloyd's Register Foundation said society depends on the proper functioning of essential sectors such as food and water, energy, transportation, telecommunications, the built environment and healthcare and that these sectors are increasingly complex and interdependent, acting at a global scale, and making them susceptible to catastrophic and cascading failure under stress. "This programme will play a leading role in an international effort to better understand, communicate and improve the resilience of these services. It will provide resources and support leadership so the companies and organisations that supply such services can work together effectively in times of stress to serve society".

Jo da Silva, director, Arup added: "As a company we have been investing in resilience research for several years, responding to the need for new approaches to managing uncertainty and disruption that go beyond traditional risk management. We are seeing growing interest in resilience of communities, cities and critical infrastructure from governments, industry and businesses in response to the challenges of climate change, rapid urbanisation and globalisation. We believe this programme provides a unique opportunity to embed resilience into mainstream thinking and doing".
Related Articles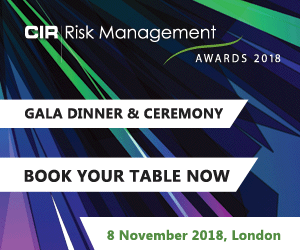 Download the latest
digital edition of
CIR Magazine
Power transmission and distribution risk
Description
Mark Evans talks to Barry Menzies, head of MIDEL ester-based dielectric fluids, at specialist manufacturer M&I Materials, to discover how ester fluids can help reduce the risks associated with transformer applications.
Most read stories...