Public sector faces 'triple front' of challenges
Written by Editor, CIR
2010-11-08
Public services may be compromised if short-term cost savings are prioritised over longer-term needs, according to the findings of a major new report.

Tough choices: Different perspectives on the long term risks facing the public sector and wider civil society, published by Zurich Municipal and Ipsos MORI, says two thirds (64%) of public sector leaders agree that short-term budget challenges will prevent them from addressing longer term risks effectively.

The research, which canvassed the views of the general public as well as those in charge of delivering public services revealed a consensus that spending cuts represent the major strategic challenge to the sector. Half (49%) of public sector leaders fear that budget cuts may impair their organisations' ability to deliver public services. Many also have concerns that spending reductions could prompt financial loss (28%) and reputational damage (22%).

Funding is not the only risk faced by public sector organisations – the report points to a 'triple front' of challenges: in addition to the impact of budget cuts, increasing demand for services and uncertainty about implementing the new government's reforms (such as the Big Society) could also trouble public service delivery over the next five years.

While public sector organisations remain confident in their ability to withstand these challenges – 91% of public sector and voluntary organisation leaders say that they are confident in their risk management processes – less than half (47%) of the public share that confidence about their local public services. But, whilst almost all leaders are confident in their processes, 63% agree that they now need to make significant changes to the way they approach strategic risk.

Zurich Municipal suggests that as well as potentially hampering longer-term service quality and organisational objectives, a knee-jerk reaction to budget cuts could result in increased claims against public sector organisations. It predicts a higher incidence of: unfair dismissal, fraud, personal injury, property maintenance, business interruption and trustees indemnity claims, if risks are not adequately managed.

"Unquestionably, now is a crucial time for the public sector, with major decisions being made about how and where to drive cost savings," said Rob Allison, managing director at Zurich Municipal. "Faced with the understandable need to focus on short-term delivery and cost reduction, it is difficult for public sector managers to pay sufficient attention to the significant long-term risks ahead, and the need to plan for them now.

"These challenges require a careful approach focused not just on the immediate issues facing public services, but also on the impact of some of the long-term problems as well. Without this dual focus, there will be considerable risks and costs ahead.

"We therefore urge all organisations across the public sector, as a matter of priority, to ensure their response to today's challenges takes into account tomorrow's needs."

Ben Page, chief executive of Ipsos MORI, said: "Doing cuts well and avoiding massive service failures now stand out as key risks following the Spending Review; public sector leaders are not confident about the outcome."

The report identifies six core areas of major risk in total for public service providers. These are:
•the long-term implications of short-term decision making;
•a reduction in service breadth and quality;
•emerging gaps in the 'Big Society';
•maintaining a productive and skilled workforce;
•reputational damage;
•increased risk-taking and potential claims growth.

It also revealed some specific risks facing each public service:

Local government
Reputational damage is a particular issue for local authorities and if ignored, could impact voter confidence. The report found four specific reputation risks; not meeting social or political expectations; failure to effectively manage major incidents; failing to meet delivery standards and; problems within the supply chain or with third parties.

Health
Declining quality was the biggest fear for the public (42%) in terms of health services, while the report highlighted the risk around emerging pandemics and the ability of health providers to handle such events.

Further & Higher Education
Sustained funding cuts could negatively impact the reputation of UK institutions by making them less competitive. Less funding may also mean reduced quality – something more than a third (36%) of the public were concerned about.

Housing
In terms of risks to social housing, the main concern for consumers (44%) was that there would not be enough supply to meet demand, while the report concluded that housing providers were not paying enough attention to longer-terms risks associated with issues such as climate change.

Emergency Services (police & fire)
Many blue light leaders were worried about delivering core services, which may impact on their ability to handle 'black swan' events such as terrorism.

Charity & voluntary organisations
Three in five people (59%) believe charities and social organisations should not take on a bigger role in service delivery; the report found that quality of services may suffer under the dual pressures of a squeezed funding pool, and delivering the Big Society at local level.
Related Articles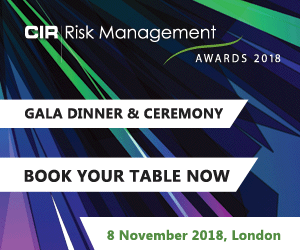 Download the latest
digital edition of
CIR Magazine
Power transmission and distribution risk
Description
Mark Evans talks to Barry Menzies, head of MIDEL ester-based dielectric fluids, at specialist manufacturer M&I Materials, to discover how ester fluids can help reduce the risks associated with transformer applications.
Most read stories...