Macron victory defuses run of electoral bombshells, but global outlook remains shaky
Written by staff reporter
2017-05-18
With Emmanuel Macron now installed as president, France has for now defused the run of electoral bombshells that have buffeted geopolitical stability over the last year. However, the global outlook remains rocky according a new report from global risk consultancy Verisk Maplecroft, which identifies the Trump administration's unpredictability in the foreign policy arena as a major geopolitical wildcard.

Verisk Maplecroft's Geopolitical Risk Outlook asserts that the elections in France and South Korea will delay the most immediate threats to global stability, but investors and business also remain exposed to multiple drivers of risk across other key markets.

Strong support for Europe's populist forces will remain one of the primary drivers of geopolitical risk over the next years. The France election result has offered greater short-term stability to the region and comes as a significant relief to investors, but Verisk Maplecroft believes the respite may be short lived. Its report states that European centrist governments will have to carry out painful reforms to address popular discontent before the next major election cycle begins in 2021. If they don't, anti-establishment parties have the potential to seize the political initiative in key countries such as France, the Netherlands and Italy. If that happens, the days of the Eurozone could be numbered.

The dynamics of another key geopolitical flashpoint will likely improve over the short-term with the election of Moon Jae-in as South Korean president. Despite instant provocations from North Korea, which fired a missile within days of his inauguration, Moon is set to adopt a more conciliatory approach. However, Verisk Maplecroft believes he is unlikely to achieve a major breakthrough on nuclear disarmament and find a lasting resolution, which will require the support of both China and the US.

The North is likely to fall back onto its time-tested policy of agreeing to renewed talks with the hope of extracting economic benefits, before ramping up tensions to wring further concessions. Talks will only delay a set of unappealing options for a resolution and how patient the US will be as Kim Jong-un's weapons programme progresses is the key variable.

Issues to watch (Source: Verisk Maplecroft)

• Macron's win stabilises Europe for now, but popularity of anti-establishment parties leaves key EU powers four years to reform or Eurozone could ultimately collapse

• Despite the restraint shown on international trade, Trump's unpredictability in foreign affairs leaves allies and traditional adversaries guessing
• Election of Moon Jae-in as South Korean president will at best keep tensions with North simmering below boiling point and nuclear solution will remain elusive

• Tighter monetary policy from the Federal Reserve is increasing political risk in those emerging markets with significant external credit liabilities

• Russia adopting a 'wait and see' approach to Trump, but likely to test US resolve in the foreign policy arena sooner than later

According to the Geopolitical Risk Outlook, it is a crucial point that Trump is now lynchpin for geopolitical stability. The unpredictability of Trump in the foreign policy arena and his flexible approach to US engagement has become a geopolitical wildcard. This is especially the case as he struggles to stamp his authority on the domestic front, leaving foreign policy as the area where he can make his greatest mark.

So far, he has taken a more measured approach in foreign affairs than was expected, especially on some of the trickiest trade relationships. Disruption to global trade - a central concern before Trump took office – has not materialised. The administration's backtrack on China's Renminbi manipulation and the growing clout of pro-business White House advisors suggests significant trade volatility is unlikely. The quickly struck trade deals between the US and China underline Trump's pragmatism on this issue. NAFTA reform, which will also be less radical than initially envisaged, has in turn been welcomed by policymakers in Mexico City.

Foreign policy unpredictability though has been a hallmark of the administration so far. This was reflected in the bombing of the Shayrat Airbase in Syria, which caused consternation in Moscow and left the Kremlin unable to project how Washington will act. For the moment Putin seems content to adopt a policy of 'wait and see,' but Verisk Maplecroft sees this as unlikely to last. Moscow can be expected to revert to type and test Trump's resolve in the foreign policy arena before long.

Recent US policy decisions have also had some less obvious impacts on the geopolitical landscape. Washington's tighter monetary policy will restrict global credit conditions and hurt markets relying on US dollars to fund trade and investment – especially those with the largest external liabilities. Verisk Maplecroft's Government Stability Projections Index reveals that many emerging markets are at risk of greater political instability. Turkey, South Africa and Venezuela are among those which are particularly vulnerable to violent disruptions to their political landscape.

Middle East oil producers also remain exposed to the risk that greater stateside production stemming from Washington's 'America First' energy policy will keep prices supressed, limiting their ability to stem popular discontent through social spending. Saudi Arabia faces the largest shortfall in break-even costs, needing a price of US$90 per barrel to balance its budget – around double the money of where it currently sits. Iran and Kuwait also face challenges, though both economies are better equipped to weather the storm.
Related Articles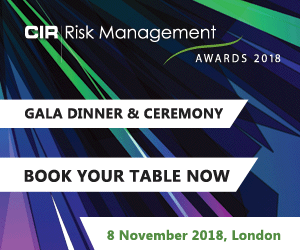 Download the latest
digital edition of
CIR Magazine
Power transmission and distribution risk
Description
Mark Evans talks to Barry Menzies, head of MIDEL ester-based dielectric fluids, at specialist manufacturer M&I Materials, to discover how ester fluids can help reduce the risks associated with transformer applications.
Most read stories...