New social and security issues make for a complex risk terrain in 2010
Written by Editor, CIR
2009-11-19
Against a backdrop of uneven and uncertain economic recovery and with the probability of regime change in some of the world's most prominent political hot-spots in 2010, new social risk and security issues will present business with a different and more complex risk terrain over the coming year.

This is the conclusion drawn by risk consultancy, Control Risks, which has just completed its annual review and business risk forecast. Control Risks' RiskMap comprises a rating of 173 countries by political and security risk. The report focuses on the geopolitical and security risks of particular interest to multi-national businesses for the coming year.

Terrorism continues to be a threat to business in Europe and North America, notwithstanding improvements in intelligence gathering, prevention work and commercial surveillance. The new threat is more likely to be homegrown, increasingly self-radicalised and low-tech. It is also more difficult to penetrate and less predictable, requiring business to reassess its security provision in 2010.

The report predicts a partial and protracted return to economic growth, and an over-dependence on governmental stimulus measures, in which circumstances political and social risk are usually at their most heightened. A structural rise in unemployment will represent a key macropolitical and security risk in 2010. With multiple political successions in key emerging markets also a likelihood, business has to be wary of being hit by collateral damage in a newly complex business environment.

International corruption will be a key agenda item for UK companies in 2010, with the expected enactment of the UK anti-bribery bill. Formal compliance will be insufficient to mitigate the risks generated by local business partners, commercial agents and consultants working with customs agencies. Businesses will need to strengthen their integrity programmes in order to reinforce a culture of clean business.

Commenting on the report, Richard Fenning, Control Risks' CEO, said: "History tells us time and again that political risks to business are greatest not at the bottom of the economic cycle, but in the first stages of recovery. Whilst being mindful of these risks, successful businesses will also have their eyes open to the opportunities presented during this uneven transitional period. During 2010, organisations will also need to consider the potential implications of the changing nature of the domestic terrorist threat, which while becoming more low-tech, is also becoming more unpredictable."

Control Risks' RiskMap 2010 has also identified five countries generally overlooked by investors because they are deemed to be too risky, but which from 2010 may offer considerable value to companies that conduct robust due diligence as part of their risk management. The countries are: Indonesia, Iran, Mozambique, Peru and Ukraine - each having not fulfilled its potential over the past decade due to underdevelopment, internal political strife or adverse geopolitical conditions. Yet each has an impressive natural and/or social resource endowment which, if harnessed and directed more effectively through improved standards of governance, could bring them out of the shadows.

Michael Denison, research director, Control Risks, said: "Some of our high-risk, high potential return countries may seem controversial. For some businesses these countries should be ones to watch very closely over the coming years, as positive political developments could lead them to become very interesting investment opportunities."
Related Articles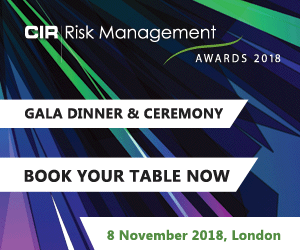 Download the latest
digital edition of
CIR Magazine
Power transmission and distribution risk
Description
Mark Evans talks to Barry Menzies, head of MIDEL ester-based dielectric fluids, at specialist manufacturer M&I Materials, to discover how ester fluids can help reduce the risks associated with transformer applications.
Most read stories...