Luzzi elected next FERMA president
Written by staff reporter
2011-09-20
Jorge Luzzi, group risk management director for Pirelli worldwide, has been elected the next president of the Federation of European Risk Management Associations (FERMA). His mandate as president will start at the end of the FERMA Forum on 5 October 2011 and continue until the end of the Forum 2013.

Michel Dennery, deputy chief risk officer, GDF SUEZ, has been elected FERMA vice-president with a two year mandate until June 2013. Julia Graham, chief risk officer for the global law firm DLA Piper, continues as vice-president until June 2012.

The current president of FERMA, Peter den Dekker will preside over the 2011 FERMA Forum in Stockholm from 2-5 October.

"Michel Dennery is strengthening FERMA's role as a voice for the European risk management community, especially with his work for FERMA on corporate governance and risk issues, and I welcome his election as FERMA vice-president," says Den Dekker.

Luzzi is currently vice-president of FERMA, chair of the International Federation of Risk and Insurance Management Associations (IFRIMA), Honorary President of the Latin American risk management association Alarys and an active member of the Italian risk management association ANRA.

He has had a wide ranging career in insurance and risk management, and today he is group risk management director for Pirelli worldwide, executive director of Pirelli Insurance and Reinsurance Company in Dublin, Ireland, and managing director of Pirelli Group Reinsurance in Switzerland.

Says Luzzi: "I am delighted to be able to take forward the work of FERMA, which now represents the interests of risk managers in 19 countries with our new members from Malta and Slovenia. I would like to pay tribute to the work of Peter den Dekker who has played such an important role in increasing FERMA's stature and profile in his two years as president."

New vice-president Michel Dennery is a member of the board of FERMA and of the French risk management association AMRAE. A civil engineer by background, he has headed the risk management department of GDF SUEZ since 2006. He is a member of the board of FERMA and of the French risk management association AMRAE.

Julia Graham is a member of the board of FERMA and a member and past chair of the UK risk management association Airmic. She is a Fellow of the Chartered Insurance Institute, a Chartered Insurer and a Member of the Institute of Risk Management. Graham is the nominated UK expert on the new ISO working group for ISO 31004, a "companion guide" to ISO 31000.
Related Articles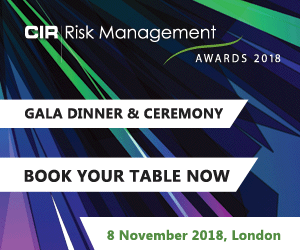 Download the latest
digital edition of
CIR Magazine
Power transmission and distribution risk
Description
Mark Evans talks to Barry Menzies, head of MIDEL ester-based dielectric fluids, at specialist manufacturer M&I Materials, to discover how ester fluids can help reduce the risks associated with transformer applications.
Most read stories...