London Market campaign kicks off in Leadenhall
Written by staff reporter
2017-10-24
Today sees the launch of a campaign aimed at promoting London as the world's insurance hub. With three days of events in and around the infamous Leadenhall Market, the London Market Group's campaign aims to present the UK capital's unrivalled credentials as the market for insuring risks and, should disaster strike, getting clients back on their feet as swiftly as possible.

Andrew Horton, CEO of Beazley and sponsor of the promotional workstream, said the London insurance market has played an essential role in enabling people to realise their ambitions for centuries, but it has not always articulated the benefits of doing business in London as clearly as it might.  But with increasing international competition, he says it needs to tell its story.

"And it's a story worth telling," Horton explains. "We have something here that is truly unique. Only London can seamlessly bring together the breadth of expertise and depth of resource needed to address the universe of risks that today's decision makers are facing.

"This launch is designed to energise and enthuse the 52,000 people who work for London Market businesses. They are the market's best ambassadors and we want them to feel pride in working in this unique place and be equipped to tell London's story confidently and consistently. In 2018, we will aim to take the campaign further afield."

Over the next three days, the campaign will see the unveiling of a commissioned artwork illustrating the unique London market ecosystem and the many activities that insurance makes possible; and various costumed characters bringing those activities to life – interacting with the public for three days in the City's infamous insurance district.
Related Articles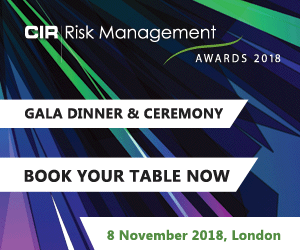 Download the latest
digital edition of
CIR Magazine
Power transmission and distribution risk
Description
Mark Evans talks to Barry Menzies, head of MIDEL ester-based dielectric fluids, at specialist manufacturer M&I Materials, to discover how ester fluids can help reduce the risks associated with transformer applications.
Most read stories...