Japan one year on: Lessons from Tohoku-Oki
Written by staff reporter
2012-03-12
The devastating events that took place in Japan one year ago have already begun to change the way that businesses manage their supply chain risk. The earthquake and subsequent tsunami destroyed infrastructure and factories supplying anything from high-tech components to steel and led big businesses including Sony and Toyota to suspend production.

The extent of the disruption emphasises how crucial Asia has become to multinational businesses due to both the increasing demand from this region as well as the constant search for low-cost suppliers. Despite this, the risk was lower than a similar scale disaster would be in other big supply chain areas such as China as Japan is a country with strong risk management practices. The impact was felt most strongly across four key industries: automotive computers, semi-conductors and transportation.

A Greenwich Associates study conducted among 75 companies in North America with sales over US$1bn found a quarter suffered significant interruption to their supply chains as a result, and that 30% lacked supply chain interruption cover.

Since the disaster, there has been an increased awareness of the threat that supply chain risks from natural catastrophes pose to businesses, as FM Global's vice-president, market development, EMEA and Asia-Pacific, Martin Fessey, points out: "While the levels of awareness of supply chain risk amongst businesses have increased following the disasters in Japan, there is still a lack of understanding of the complexities of supply chains and many companies are still underprepared should the worst happen. Businesses must be more proactive about ensuring that they have the right measures in place to maintain business resilience in the event of a catastrophe. Those companies who take on board the lessons that can be learnt from the Japan disaster will have a competitive advantage in their industry should another disaster strike."

Here, FM Global cites five key lessons from Tohoku-Oki.

Natural catastrophes damage the market share and reputation of companies as well as cause loss of revenue
Risk management challenges are growing and becoming more of a boardroom issue because the consequences can be dire. Those consequences may also go beyond the loss of revenue due to supply chain interruption – a company's market share and reputation may be at risk. Resilience is increasingly viewed as a competitive advantage because, when faced with a catastrophe, those businesses that are prepared to deal with natural catastrophes are the quickest to return to normal operations.

Preventive measures are crucial when it comes to dealing with natural catastrophes
The majority of all loss is preventable. Even in the most extreme cases, while there may still be some damage, preventive action can limit this damage and therefore restrict the extent to which businesses face interruption.

Businesses need to make sure they have planned for the worst case scenario
A key lesson following events in Japan is that complacency can kill a company. Companies need to consider the worst case scenario when planning for supply chain risk, because if they don't they will face severe business disruptions. Part of the problem when the earthquake struck was that no one had considered the impact of a disaster of that size, and so neither the insurance industry nor the business community had the right procedures in place to deal with the fall-out from widespread plant-closures and production outages, nor for the port closures that followed the tsunami.

Businesses need to change the way they view supply chains
Multi-nationals are now beginning to look at changing the ways that supply-chain's are designed. The problems in Japan were exacerbated by the continuing issue of clustering of similar industries in one area. When there is a high concentration of manufacturers of a specific product in one area companies may find that if a natural disaster strikes they have no real supply chain alternative. Businesses need to make sure that they have a plan B in place should a disaster strike.

The Japan tsunami also highlighted that businesses need to be aware of multi-tier levels of supply. It is not enough to simply be prepared for natural catastrophes effecting direct suppliers, but also the potential impact on the supplier's supply chain. If a supplier's source of supply is cut off then contingent business interruption may result, and multi-nationals need to make sure that they are insured against this possibility.

Businesses need to plan for what may happen if their plan B goes wrong
While many companies have realised the importance of having an alternative source of supply in place in the event of a natural catastrophe, the Thai floods following shortly after the Japan disaster meant that a lot of businesses were caught out twice, having moved their source of supply. One solution is to increase and diversify the number of suppliers. If you rely on a number of suppliers across different areas rather than just one, if a disaster happens, you will reduce the levels of business interruption.

FM Global recently announced the launch of the FM Global NatHaz Toolkit, an online resource for natural hazard planning to help businesses prepare for and protect against the growing risks of catastrophe. This toolkit is a free resource for businesses and includes four sections dedicated to understanding the hazards associated with earthquake, flood, freeze and windstorm. Each section includes a variety of loss prevention education material, including podcasts, brochures and checklists, on protecting property from natural catastrophe.
Related Articles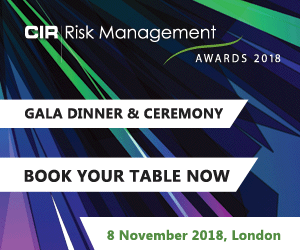 Download the latest
digital edition of
CIR Magazine
Power transmission and distribution risk
Description
Mark Evans talks to Barry Menzies, head of MIDEL ester-based dielectric fluids, at specialist manufacturer M&I Materials, to discover how ester fluids can help reduce the risks associated with transformer applications.
Most read stories...