East Coast awaits Irene's arrival
Written by staff reporter
2011-08-26
Hurricane Irene, located approximately 330 miles (530 kilometers) south-southwest of Cape Hatteras, North Carolina, is currently tracking north at 14 mph (22 kph), according to Aon Benfield's latest cat bulletin. It says data from NOAA and Air Force Reserve Hurricane Hunter aircraft suggest the intensity of Irene is slightly lower. Recent dropsonde observations indicated that a higher-than-typical reduction of the winds measured from flight-level to the surface applies, and the initial intensity is reduced to 105 mph (165 kph). Given the current storm structure and predicted environmental factors, little change in strength is expected during the next 12 to 24 hours.

After passing North Carolina, southwesterly wind shear is forecast to increase and sea surface temperatures will be gradually decreasing. This should result in gradual weakening of the cyclone as it moves near the Mid-Atlantic Coast. However, Irene is expected to remain a large and dangerous tropical cyclone and has the potential to produce damaging winds, storm surge flooding and extremely heavy rains almost anywhere from eastern North Carolina northward through New England.

They anticipate that the hurricane warning and watch areas will need to be extended northward along the US East Coast this afternoon. Tropical storm-force winds are expected to first reach the southern portion of the warning area this afternoon. Hurricane-force winds are expected to first reach the Hurricane Warning area tonight or Saturday morning, and then spread northward in the warning area through Sunday.

An extremely dangerous storm surge will raise water levels by as much as 6 to 11 feet above ground level in the Hurricane Warning area in North Carolina, including the Albemarle and Pamlico Sounds, according to the report. Storm surge will raise water levels by as much as 4 to 8 feet above ground level over southern portions of the Chesapeake Bay (including tributaries) and the eastern shore of the Delmarva Peninsula. Storm surge will raise water levels by as much as 3 to 6 feet above ground level along the jersey shore. Near the coast, the surge will be accompanied by large, destructive and life-threatening waves.

Irene is expected to produce rainfall accumulations of 6 to 10 inches (with isolated maximum amounts of 15 inches) from eastern North Carolina northward through the Mid-Atlantic States into New England through Monday morning. These rains could cause widespread flooding and life-threatening flash floods.

Large swells generated by Irene are affecting portions of the coast of the southeastern United States. These swells will cause life-threatening surf and rip current condition

People in high risk areas rushing to buy emergency supplies including flashlights, water and wood to board up their houses.

Organisations are being warned to consider the impact of the threats on systems, and to ready their business resilience and disaster recovery plans.

IBM has produced the following redimentary disaster preparedness checklist for organisations in the affected areas:

· Plan for catastrophic events that could last a while - for example, businesses must consider the impact if the duration of the disruption to the facility, network, technology, or people is longer than a period of three days, one week, etc. Over the past decade, we have seen more devastating disaster events with a longer term duration and financial impact. Companies need to consider their options if their primary environment or key people are not available for more than two weeks.· Consider employees and the personal impact of a disaster - A company's most important asset are their people, but the most important asset for people are their families. Consider how you would move them and their families if required, think about providing financial support to your employees during a crisis event, and consider offering counseling to help them deal with the aftermath of the crisis.

· Develop various ways to communicate with employees, partners – After people, the next most important element is communication. Communications efforts must be timely, clear and honest, as miscommunication can make a disaster even worse. Consider how you would communicate with your employees, partners, clients, media, industry, and vice versa, what training you have provided, what tools are you using and - very important - test the communications plan.

· Think about the "domino effect" when considering business risk - Years of experience monitoring regional disasters has shown that these events often create other events. For example, a hurricane normally has high winds and heavy rains that can lead to flooding, structural damage, power outage, telecommunication and/or travel disruptions.

· Validate your data backup plan – Verify that your data is out of harm's way and/or is accessible to your recovery location. Consider using a cloud service to store key data and allow your organization more flexibility to respond to changing conditions with minimal interruption to the business.· Think broadly - Each company is part of a supply chain or network. While you may do everything right, if you have a critical partner, supplier, vendor or provider of service, your preparedness is only as good as those other businesses. As part of your disaster recovery plan, ensure everyone upstream and downstream from your business is also prepared.
Related Articles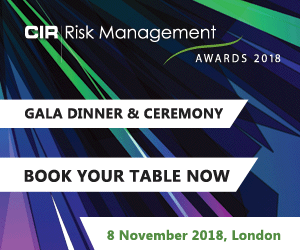 Download the latest
digital edition of
CIR Magazine
Power transmission and distribution risk
Description
Mark Evans talks to Barry Menzies, head of MIDEL ester-based dielectric fluids, at specialist manufacturer M&I Materials, to discover how ester fluids can help reduce the risks associated with transformer applications.
Most read stories...