New alliance aims to tackle fraud
Written by staff reporter
2011-10-12
For the first time, an alliance of government, industry representatives, voluntary groups and law enforcement agencies have come together to create an integrated action plan aimed at tackling fraud, which is estimated to cost the UK £38bn a year.

The action plan of teh 40-strong consortium places its key emphasis on preventing fraud through greater fraud awareness and self protection, combined with stronger government and industry prevention systems and controls. It also sets out a more effective approach to enforcement.

Examples of the new initiatives that are being progressed include:

• Preventing fraud: Industry and the public sector will develop their intelligence-sharing capabilities to prevent fraud attacks.

• Increasing awareness and reporting: A new research tool will help all sectors provide more targeted prevention advice to the public, particularly vulnerable people, and develop a better understanding of small businesses' vulnerability to fraud and the support they need. Action Fraud will expand its fraud report taking capacity to include all financially motivated online crime.

• A more effective enforcement response: Greater intelligence capabilities of the National Fraud Intelligence Bureau will disrupt fraudsters' activities and rapidly close down the channels through which they operate and launder money. Increasing the use of the civil system will bring more fraudsters to justice and there will be more redress for their victims.

Speaking at a launch event for what the group is calling Fighting Fraud Together, today at Mansion House, James Brokenshire MP, Minister for Crime and Security said: "By sharing what we know, we will reduce fraud.

"Fraud causes serious harm to the public, to businesses and the wider economy. For too long fraud has almost been seen as a victimless crime. It isn't and too often the victims are some of the most vulnerable members of our community. That's why this new strategy is important to better target, prosecute and prevent it.

"The creation of a new Economic Crime Command as part of the National Crime Agency will also provide a more effective, better co-ordinated and intelligence-led response across all economic crime fighting agencies."

The National Fraud Authority led the development of Fighting Fraud Together on behalf of the whole counter fraud community, with significant input from the private and not-for-profit sector as well as law enforcement and government.

National Fraud Authority chief executive, Stephen Harrison, added:
"As a result of Fighting Fraud Together I expect to see more sharing of intelligence, more fraud losses prevented, a greater number of criminal enterprises disrupted, more assets denied and more criminals brought to justice. We have the tools to fight back. Now we have the will and commitment to use them together to even greater effect."

Adrian Leppard, commissioner of the City of London Police, which is the UK's lead force for fraud, said: "The nature and scale of fraud offending across the UK demands a co-ordinated and collaborative response from law enforcement and the public, private and voluntary sector.

"Through Fighting Fraud Together we have a comprehensive strategy in place that will enable the counter fraud community to combat more effectively a crime that has permeated all corners of society.

"As the national lead force for fraud and the home of the National Fraud Intelligence Bureau, the City of London Police specialises in sharing intelligence and best practice and will utilise all its resources in support of the Fighting Fraud Together strategy, which we believe marks an important milestone in our collective efforts to combat fraud."

The 37 organisations that have signed up to Fighting Fraud Together are: Association of British Insurers; Association of Chief Police Officers; Attorney General's Office; British Bankers Association; British Chambers of Commerce; British Retail Consortium; Building Societies Association; Charity Commission; Charity Finance Directors Group; Citizens Advice; City of London Police; Council of Mortgage Lenders; Crown Prosecution Service; Department for Communities and Local Government; Department for Work and Pensions; Federation of Small Businesses; Fraud Advisory Panel; Financial Services Authority; HM Revenue and Customs; HM Treasury; Home Office; Insurance Fraud Bureau; Land Registry; The Law Society; Metropolitan Police; Ministry of Justice; National Council for Voluntary Organisations; National Fraud Authority; Royal Institute of Chartered Surveyors; Serious Fraud Office; Serious Organised Crime Agency; Solicitors Regulation Authority; Telecommunications UK Fraud Forum; The UK Cards Association and Victim Support.
Related Articles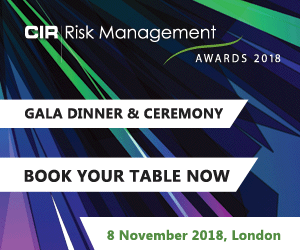 Download the latest
digital edition of
CIR Magazine
Power transmission and distribution risk
Description
Mark Evans talks to Barry Menzies, head of MIDEL ester-based dielectric fluids, at specialist manufacturer M&I Materials, to discover how ester fluids can help reduce the risks associated with transformer applications.
Most read stories...