France bears brunt of windstorm's wrath
Written by Editor, CIR
2010-03-01
Windstorm Xynthia, which swept across western Europe at the weekend, has resulted in widespread power outages, damage and at least 50 fatalities. Wind damage has been reported across Portugal, Spain, France and Germany with some storm surge damage observed in France, where at least 40 fatalities have been reported.

Neena Saith, senior catastrophe response manager at risk consultancy, RMS, said: "Xynthia has wreaked chaos across swathes of western Europe, but based on preliminary observations it is by no means as severe as Windstorm Lothar in 1999. Around 1 million homes have lost power, which is about half of what we saw during Lothar, and there's already promising signs that power is being restored."

Total insured losses from Lothar and Martin in France amounted to around EUR6.5bn at the time. Peak gusts during Lothar were as high as 50 metres per second (180 km/hr) in Paris compared to about 30 metres per second during Xynthia.

Reports suggest flood defenses were overtopped in France due to a combination of a storm surge and spring tides, inundating homes and killing at least 26 people. The coastal areas of the Vendee region of France including La Rochelle have been affected; these areas were also impacted by a storm surge in 1999 following Windstorm Martin.

Many single storey houses are reported to be covered with water up to the roof in the three main communes affected and the flood water depth reaches about 1.2m in many other areas. Damage to commercial properties, including hotels and restaurants, has also been reported. Over 100 homes are still being searched for missing people.

The strong winds also downed trees and caused roof top damage across a wide swath of France, extending in a northeast trajectory from La Rochelle in the coast to Metz and the Strasbourg region and into Germany. High winds causing treefalls, widespread debris and disruption are reported from the Parisian suburbs and Brittany to pockets of damage to high-elevation ski resorts in the Haute-Garonne and Hautes-Pyrenees, which could force them to close for the rest of the season. In Paris there are no reports of major damage, however there is evidence of minor damage to some warehouses and also indirect damage from windblown missiles.

Three people have been killed in western Germany as a consequence of the storm, all are believed to have lost their lives from falling trees. The main impacted areas are Rheinland-Pfalz, Nordrhein-Westfalen, Hessen und Baden-Württemberg. Fallen trees, destroyed cars, and broken street signs and other debris characterize the damage region. There has also been significant transport disruption; trainlines and highways were closed to avoid accidents from falling trees.

No major property damage is reported in Spain, however it is clear that there have been some trees downed and sporadic reports of damage to homes. In Portugal there are reports of downed trees which blocked roads and rail lines. It is reported that the country's fire service responded to in excess of 4,000 incidents related to storm damage. Portugal's Civil Protection Service has confirmed that one person has been killed as a result of a fallen tree. In Madeira further rainfall was brought to the island which has already been subject to flash flooding and mudslides during the last week.

Windstorm Xynthia has taken a more northeasterly track than either Lothar or Martin, causing damage in northern Germany. Much of Germany was impacted by Windstorm Kyrill in January 2007 which bought similar windspeeds to those observed for Xynthia, with peak gusts of 35m/s and 32m/s recorded in Braunschweig & Hamburg respectively, however Kyrill affected a much larger portion of Germany. Total insured losses in German at the time of the event were EUR2.5bn, with Kyrill causing a further estimated EUR1.4bn across Europe.
Related Articles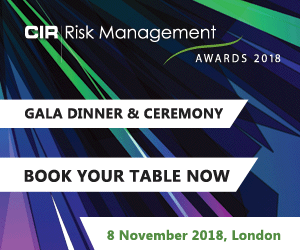 Download the latest
digital edition of
CIR Magazine
Power transmission and distribution risk
Description
Mark Evans talks to Barry Menzies, head of MIDEL ester-based dielectric fluids, at specialist manufacturer M&I Materials, to discover how ester fluids can help reduce the risks associated with transformer applications.
Most read stories...