Financial failure tops supply chain concerns
Written by Editor, CIR
2009-07-01
Financial failure poses the greatest risk to global supply chains, with companies also concerned by pandemic risk reports Aon.

The 2009 Risk in 21st Century Supply Chains survey, issued by the global risk adviser and strategic business partner State of Flux, shows 75% of companies cited financial failure as a risk and 19% cited pandemics. However, physical damage at a supplier's facility and data security decreased by 10% (to 43%) and 14% (to 29%) respectively from 2008.

Aon comments that perception of increased risk, particularly financial exposure, is not necessarily borne out by experience with 7% facing losses related to financial failure of suppliers. Although significant, the most commonly reported disruptions are due to physical incidents at own sites (14%) and incidents at suppliers (12%).

The report shows that prime drivers for taking supply chain risk management seriously are shifting. The credit crunch is a key factor (30%) as corporate governance (down 18% to 58%), best practice (down 24% to 52%) and performance improvement (down 16% to 55%) slip down the agenda. The report observes that "risk management is no longer something companies feel obliged to do by external pressure but is now seen as more urgent and vital for business survival".

85% see suppliers and third parties as introducing more risk into supply chain than previously (up 14%) but only 15% were confident they have a complete understanding of supplier exposures.

"It's time to let go of past certainties as the supply chain threat is very real," says Alex Hindson, head of ERM at Aon.

"This is illustrated by 15% more companies making risk management a priority for 2009 (42% in total), with accountability being raised up the organisation to Board and CEO level. This implies organisations are investing to become more risk aware. Companies must start looking for early warning signs with creditors and debtors to help react effectively and in a timely manner to potential supply chain failures."
Related Articles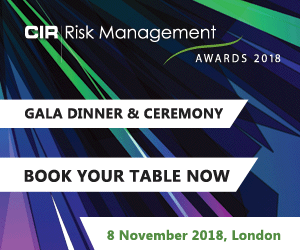 Download the latest
digital edition of
CIR Magazine
Power transmission and distribution risk
Description
Mark Evans talks to Barry Menzies, head of MIDEL ester-based dielectric fluids, at specialist manufacturer M&I Materials, to discover how ester fluids can help reduce the risks associated with transformer applications.
Most read stories...