Executives at risk from growing anti-corporate litigation culture
Written by staff reporter
2016-11-29
New risks including rising regulator and shareholder activism and the influence of third party litigation funders are putting corporate leaders under more pressure than ever of falling foul of investigations, fines or prosecution over alleged wrongdoing.

These are the conclusions drawn by Allianz Global Corporate & Specialty (AGCS) following analysis of its D&O claims. It found a growing trend towards seeking punitive and personal legal action against executives for failure to follow regulations and standards which could result in costly investigations, criminal prosecutions or civil litigation.

"While the legal landscape differs strongly from country to country, increasing shareholder or regulatory action has become a global phenomenon that needs to be given top priority within companies' internal risk management departments," comments Bernard Poncin, global head of Financial Lines at AGCS.

According to AGCS analysis, non-compliance with laws and regulations is now the top cause of D&O claims by number, followed by negligence and maladministration/lack of controls. The average D&O claim for breach of duty costs over US$1 million (€1 million). However, in large corporate liability cases D&O claims can be valued in the hundreds of millions of dollars. AGCS observes a general trend for D&O claims to be dismissed or resolved more slowly, meaning lengthier litigation, increased defence costs and higher settlement expectations. For example, the average US securities class action case takes between three and six years to complete while legal defence costs average around $10 million, rising to US$100 million for the largest cases. In the past six years defence costs have almost doubled for large D&O claims in the US. The influence of third party litigation funding is also changing the global litigation map, with it being pivotal in the development of collective actions against financial institutions and commercial entities and their directors and officers.

Speaking at the Cambridge International Symposium on Economic Crime in September, the Attorney General reiterated the Prime Minister's priority of expanding economic opportunities – meaning businesses "of all sizes" should be better held accountable for their failures. The Attorney General also restated the intention to consult on extending the criminal offence of 'failure to prevent' to other economic crimes such as fraud and money laundering so that firms are properly held to account for criminal activity that takes place within them. 

"If a new corporate offence of failing to prevent economic crime is introduced in the UK, it will represent a huge expansion in corporate criminal liability," said Terry FitzGerald, head of Commercial D&O and Financial Institutions, UK at AGCS. "Although these particular reforms are focused on corporate liability, there is, of course, a broader drive to hold individuals accountable in the event of criminal conduct or regulatory breaches at their companies. In recent years, increasing emphasis has been placed on personal accountability across all business sectors, with Deferred Prosecution Agreements now a means to further increase cooperation with regulators and encourage best practice. Reform in this area could ultimately have a fundamental impact on the risks faced by senior executives."

Allianz believes the risks and potential liabilities of senior executives have never been greater as litigation against companies and their officers is on the rise. In the US, the number of security class action filings is rising and, at mid-year, was on course for its highest annual total for 12 years. Many Asian countries such as Japan, Hong Kong, Thailand and Singapore are also moving towards a more litigious culture. The increase in claims has also been pronounced in Germany where the number of D&O claims for AGCS alone has tripled in the past 20 years.

The landscape for executives is further complicated by a number of emerging perils, such as liability around cyber attacks and data privacy. In the US; several class actions have already been filed related to data breaches. Data protection rules around the world are becoming increasingly tough, with severe penalties for non-compliance. As a consequence, AGCS experts anticipate cyber security-related D&O litigation more widely in the US, but also in Europe, the Middle East and Australia – if there has been negligence in any failure to protect data or a lack of controls.

Other new management risks include negative disclosures or allegations around environmental pollution, climate change and modern slavery which could result in reputational risks and shareholder activism, public outcry or governmental action. Mergers and acquisitions also continue to be a key driver of D&O litigation and is predicted to continue at rapid pace in future.
Related Articles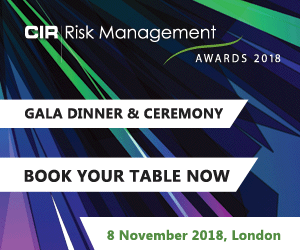 Download the latest
digital edition of
CIR Magazine
Power transmission and distribution risk
Description
Mark Evans talks to Barry Menzies, head of MIDEL ester-based dielectric fluids, at specialist manufacturer M&I Materials, to discover how ester fluids can help reduce the risks associated with transformer applications.
Most read stories...