COMMENT: Digital transformation in insurance

Written by Deborah Ritchie
2016-11-13
The digitisation megatrend is transforming consumer expectations across the globe, as internet and mobile phone usage increase year-on-year. The sheer pace and scale of this trend is forcing businesses to re-evaluate and adapt, and to engage with new ways of doing business to avoid lagging behind the curve.

The impact of this digital revolution has been keenly felt in the manufacturing and retail sectors, with the shift to e-commerce and wider technological change redefining risk for the sector and posing challenges as supply chains become digitised.

The implications for insurers, though, and for insurance and risk managers are considerable – and there are huge opportunities for those that accept how critical a business issue digital transformation now is.

And it seems that insurers are beginning to address the core challenges of innovation, seeking new ways to optimise operations and processes while focusing on driving and implementing their digital strategies.

According to DLA Piper's recent paper 'Digital Transformation in the Insurance Sector', the traditional models of the insurance sector are undergoing a substantial rate of change, spurred on by technological developments such as big data, artificial intelligence and agile working methods, as well as disruption caused by new business models such as peer-to-peer and the growth of Insurtech and new market entrants.
The law firm says the next step will be to examine the key legal, regulatory and commercial challenges facing insurers as they seek to navigate the increasingly advanced and innovative digital market.

We are entering an era in which improved technology and knowledge are enabling disruptive (in a good sense) innovations that enable us to work and live in completely new ways – an era in which entirely new markets will need to be created that offer new and better ways to satisfy the changed needs of tomorrow's consumers and customers.
Disruptive innovation will by its very nature upturn many of the concepts the industry has come to accept, and it will be difficult to implement to begin with, but the opportunities involved in it far outweigh the risks of not doing so.

"Disruption represents huge opportunity," according to CEO, AXA Corporate Solutions UK, Gaëlle Tortuyaux, "Especially if we can work together as a team – risk managers, brokers and insurers – to disrupt rather than being disrupted, harnessing its power to foster mutual success rather than merely seeing it as barrier or hindrance."
The ongoing trend towards digitisation has produced huge efficiencies across a wide range of sectors, but has also increased their risk profile – most obviously through cyber vulnerabilities.

The insurance industry has until recently lagged behind more innovative sectors such as retail and banking, but that is all in the past, and insurers are now very much focused on the future.
Related Articles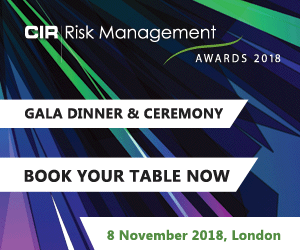 Download the latest
digital edition of
CIR Magazine
Power transmission and distribution risk
Description
Mark Evans talks to Barry Menzies, head of MIDEL ester-based dielectric fluids, at specialist manufacturer M&I Materials, to discover how ester fluids can help reduce the risks associated with transformer applications.
Most read stories...