Chubb launches cyber security insurance
Written by staff reporter
2011-12-14
Chubb has launched a new cyber security insurance product for companies in the UK, Ireland and Europe that own or control confidential, personal, sensitive financial information or private health data or that transact business via the internet.

The product provides broad coverage for financial loss arising out of a data security breach by offering cover for associated first party and third party liability losses.

Michael Thyssen, European product manager, Chubb Europe commented: "Any company that owns, holds or controls personal and confidential data can expect to suffer a data security breach – be it from an employee leaving an unencrypted laptop or data stick on a train, to a full blown attack by professional and criminal hackers. Whatever the cause, a data breach can result in significant financial loss due to customer notification and crisis management expenses such as credit monitoring services and call centres for customers, as well as legal and forensic investigation costs. Companies can suffer from business interruption and in some instances they can even get fined. Also, data security breaches pose huge reputational risks to a company, so specialist PR consultants and advertising firms are needed to help contain the damage."

The new product also has the flexibility to fit with existing financial and commercial insurance policies such as E&O and D&O cover.

Neil McCarthy, UK & Ireland regional underwriting manager at Chubb, said: "With an evolving business, legal and regulatory environment in the US and Europe comes increased accountability, scrutiny and responsibility for safe-keeping of personal data. In the US, cyber security insurance is a cover that has grown rapidly year on year – primarily driven by a legal requirement in most US states to notify clients of any data breach.

"As Viviane Reding, the European Justice Commissioner, intends to introduce mandatory notification in Europe, this adds pressure on European companies to address and properly manage this operational risk, with insurance being one element of risk mitigation. Current buying patterns suggest that the cyber insurance market is in its infancy in Europe and we're noticing a significant upswing in enquiries," added Thyssen.
Related Articles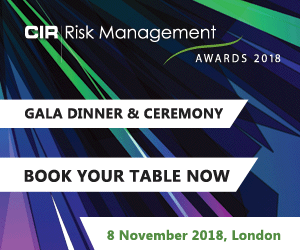 Download the latest
digital edition of
CIR Magazine
Power transmission and distribution risk
Description
Mark Evans talks to Barry Menzies, head of MIDEL ester-based dielectric fluids, at specialist manufacturer M&I Materials, to discover how ester fluids can help reduce the risks associated with transformer applications.
Most read stories...