XL confirms Catlin acquisition
Written by staff reporter
2015-01-09
XL has confirmed its acquisition of Catlin. Under the terms of the transaction, XL will acquire all of Catlin's common shares for consideration of 388 pence in cash and 0.130 share of XL for each Catlin common share. On the basis of the closing price of an XL share on 8 January of US$35.42 the offer values Catlin at 693 pence per share. This represents a transaction equity value of approximately US$4.1 billion dollars. In addition, Catlin shareholders will receive a 22p final dividend to be paid in Q1 2015.

XL CEO Mike McGavick commented: "We are delighted to announce this compelling combination which positions us strongly to provide more – and even better – answers for the world's most complex risks while enhancing our opportunities to create value for shareholders and better serve clients and brokers. We believe the transaction will accelerate each company's strategy, and address the meaningful structural changes we see shaping the P&C sector. Specifically, the combination will add immediate scale in specialty insurance, it will create a more efficient and more capable global network by bringing our two infrastructures together, and it creates a top 10 reinsurer with expanded alternative capital capabilities."

McGavick continued, "This is an extraordinary opportunity to bring together two innovators with roots in disciplined underwriting, industry leadership and business vision, and strong cultural alignment. I am especially pleased that Stephen Catlin will continue on with the combined company and, on closing of the acquisition, is expected to serve on our Board. We will benefit enormously from Stephen's input in all strategic decisions and through our ability to leverage his vast market network as we implement the strategy of the new consolidated company. With the combination of our talented teams, we expect to maintain strong financial fundamentals while generating attractive economics and long-term value for shareholders including double-digit EPS and meaningful ROE accretion."

Catlin CEO Stephen Catlin said, "XL is a compelling partner for the Catlin business. Both businesses have been built on underwriting excellence and benefit from strong cultural compatibility. Together, the combined entity will be a market leading global specialist and property catastrophe insurer which will be far better positioned to respond to the changing dynamics that are impacting the broader insurance and reinsurance markets. We expect the enlarged business to benefit from increased diversification, significant further economies of scale, strengthened franchises in each of its markets and an improved standing with intermediaries. As a result, XL Catlin will be better equipped to serve its clients across a range of distribution channels and geographies with an enhanced suite of capabilities and products."

Mike McGavick will continue as CEO and it is expected that Stephen Catlin will join the combined company as executive deputy chairman upon the closing of the transaction. It is also expected that Mr. Catlin will serve on the board of directors. Peter Porrino will continue as CFO. An additional Catlin director is also expected to join the XL board of directors in connection with the closing of the transaction.

Greg Hendrick, currently chief executive of XL's insurance operations, will have the role of chief executive of reinsurance, assuming responsibility for the combined reinsurance business and leading all alternative capital strategies. Until the transaction closes, John Welch, currently chief executive of XL's North America Reinsurance operations, will lead reinsurance operations at XL, given Jamie Veghte's recent retirement.

Paul Brand, Catlin's CUO, will have the position of chair of the insurance leadership team and CUO of insurance and will have responsibility for capital allocation and purchasing outward reinsurance for the group. Additionally, Kelly Lyles, currently XL's head of professional insurance will assume the position of deputy chair of the insurance leadership team and chief regional officer, insurance.

The transaction is structured as a scheme of arrangement and is expected to close mid-2015, subject to approval of Catlin shareholders and sanction by the Supreme Court of Bermuda, customary regulatory approvals and anti-trust clearances, and other customary closing conditions. Following the completion of the transaction, the name of the parent company of the combined group will remain XL Group plc, and the newly combined company will be marketed as XL Catlin.
Related Articles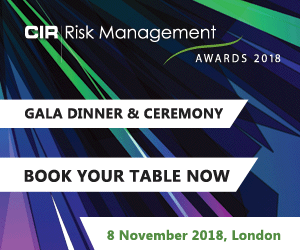 Download the latest
digital edition of
CIR Magazine
Power transmission and distribution risk
Description
Mark Evans talks to Barry Menzies, head of MIDEL ester-based dielectric fluids, at specialist manufacturer M&I Materials, to discover how ester fluids can help reduce the risks associated with transformer applications.
Most read stories...