Warning issued over potential supply chain disruption for electric vehicles
Written by staff reporter
2018-04-13
Auto manufacturers could face significant disruption as a result in the slowdown of the supply of batteries for electric vehicles. This is according to research from JLT which showed that eight of the 11 principal countries which supply key raw materials for electric vehicle batteries, such as cobalt and lithium, are in territories designated as at high or very high risk of disruption.

These countries include the Democratic Republic of Congo (DRC), Guinea, Russia and the Philippines, and the risks identified arise from political instability, natural catastrophe, as well as supply and demand pressures.

Automakers remain heavily reliant on a small number of countries for the raw materials required in EV batteries, with the DRC producing over 80% of global cobalt exports. Political instability in the country has created uncertainty over the investment environment for new operations, and the prospect of political interference also looms large – especially in light of a new mining code agreed last month which will double the DRC government's stake in mining projects.  

In addition, many supplier countries are based in locations which face a high risk from natural catastrophes. For example, the Philippines – a major source of nickel – is prone to flooding, landslides, earthquakes and typhoons, which can hinder or entirely halt supply.

Prices of raw materials for EV batteries have also spiralled – with copper up 39% and cobalt up 127% over the last year according to research from Business Monitor International (BMI).

Head of Automotive at JLT Specialty, Matt Grimwade, said: "The fact that the auto industry, along with society more generally, continues to speed towards an electric vehicle future is not without its dangers. The overwhelming reliance on raw materials from high risk regions for EV battery production represents a major threat of disruption to supply and poses a business-critical risk to manufacturers. The risk is real and growing, and it is imperative that automakers take the necessary steps to mitigate and protect from a potential supply chain catastrophe."

As automakers rush to embrace electric vehicles, growing demand means prices are expected to remain high, while tech giants such as Apple, Lenovo and LG also require the same raw materials for laptops and mobile phones.
Related Articles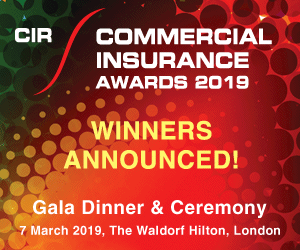 Download the latest
digital edition of
CIR Magazine
Power transmission and distribution risk
Description
Mark Evans talks to Barry Menzies, head of MIDEL ester-based dielectric fluids, at specialist manufacturer M&I Materials, to discover how ester fluids can help reduce the risks associated with transformer applications.
Most read stories...