VIEW: Growing with the risk profession
Written by John Ludlow, CEO, Airmic
2017-07-31
At Airmic's annual conference in Birmingham, there was a real sense that risk management is at a crossroads – that it is a profession in transformation. The risks businesses face are changing in fundamental ways and at an unprecedented pace, as they grapple with cyber threats, business model disruption and reputational crises in a social media era. Indeed, an in depth survey of Airmic members reveals that almost all of the top ten risk concerns are now non-traditional or intangible in nature.

The same survey highlights that risk professionals must now deal with these risks differently. Understanding their interconnected nature and wider business implications for the boardroom, for example, is increasingly important. New data analysis techniques and a deeper understanding of emerging risks such as the impact of digital disruption are also required.

It is striking that eight out of ten risk managers believe the profession will grow in value and become a more regular boardroom item over the next three years. Businesses are having to work harder to understand and manage their principal risks and this means board members going further than just reviewing the risk register and the generic risk management system. Many boards now engage with risk working groups set up to address each area of risk to ensure that risk owners have the resource, capability and level of collaboration across the business needed to deliver long-term resilience.

There is undoubtedly greater demand for risk expertise at the executive level, but to seize this opportunity, the whole risk community will need to do more to ensure it is equipped to move to the next level. We need to think more strategically and learn how to translate our technical intelligence into a compelling boardroom pitch.

We can't do this alone. Our survey also shows that as risks become more complex and interconnected, we have to step outside our silos to work with HR, finance, IT, communications and many others to acquire an enterprise and strategic view of risks. In other words, we have to do more to build our network of stakeholders critical to our mission.
Related Articles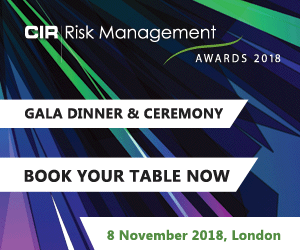 Download the latest
digital edition of
CIR Magazine
Power transmission and distribution risk
Description
Mark Evans talks to Barry Menzies, head of MIDEL ester-based dielectric fluids, at specialist manufacturer M&I Materials, to discover how ester fluids can help reduce the risks associated with transformer applications.
Most read stories...