VIEW: Surprise! An element of risk
Written by George Clark, chairman, the Institute of Operational Risk
2016-10-25
As a risk manager, one of my jobs is to minimise – though not always remove – the risk of surprise. But when the EU referendum result was announced, I began to wonder to what degree risk managers everywhere managed to achieve this. Generally, as risk managers, we have a good handle on the values, behaviours and culture that influence how decisions are made within our firms – we think we understand the 'mood' of the company. But this is just one of the areas where the UK's vote to leave the EU resonated with me as a risk manager.

The recent decision to opt for Brexit presented a timely reminder that risks – and operational risks in particular – are environment and context dependent, in this case the mood of the country. That context is the place in our firms where daily decisions on risk taking, managing tolerances and staying within appetite are taken. I'm also sure that within that context we will have come across individuals in our organisations that speak with such certainty, their wisdom is always accepted. Risk theory and research identifies the need to depend upon expert judgement. We depend upon those experts to validate what we believe or to fill in the gaps in our understanding and knowledge, but then we must make sure they are indeed experts. Yet the views of accepted experts supporting the Remain campaign were overwritten by statements of certainty for a future on spending, trade, immigration, that the Leave campaign actually didn't have control over.

A recent BBC programme suggested one reason for this as a refusal by Remain to take on Leave in the area that seemed to matter most for people: immigration. The lesson for risk managers here is to be strong enough to challenge business statements and positions, even in areas where our experience is weak or where we are up against personalities and arguments that have popular support.

It is worth considering the value of ensuring arguments land with the audience in a way that resonates with them; if we can't explain our position in terms of language and outcomes that matter, our ability to influence is diminished, something that will not help us as we seek to preempt and mitigate the risk of the next, inevitable surprise.
Related Articles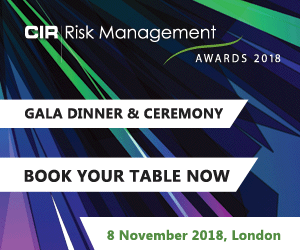 Download the latest
digital edition of
CIR Magazine
Power transmission and distribution risk
Description
Mark Evans talks to Barry Menzies, head of MIDEL ester-based dielectric fluids, at specialist manufacturer M&I Materials, to discover how ester fluids can help reduce the risks associated with transformer applications.
Most read stories...