VIEW: Public sector risk challenges ahead
Written by Jane O'Leary, vice-chairman of Alarm
2017-06-15
My last contribution to this column highlighted the challenges to the public sector in times of continuing financial cuts. Since then we have seen the Spring Budget which provided extra grant funding for social care with £2bn pledged for the next three years, of which £1bn will be available in 2017/2018; £320m for schools; and further devolved powers to local authorities. This was welcome news, of course, but there are still hurdles for our member risk managers to jump, namely the triggering of Article 50 and the economic uncertainty it brings, the increase in Insurance Premium Tax and the change to the Discount Rate – all of which will present challenges for risk managers.

As our members go through the annual round of insurance renewals and tenders, Insurance Premium Tax will rise to 12% from June 2017. It is the third time the tax has been increased in less than two years. Whilst many public sector members have high levels of self-insurance, the external premium cost is still a considerable sum and this increase of tax is a cost that diverts from delivery of front line services. Coupled with the change to the Discount Rate, it is likely we shall see an increase in premiums together with significant increase in reserves on large losses. Alarm is working with partners to ensure these changes have minimal adverse effect on the public sector.

On a more positive note Alarm welcomes the announcement of reforms to whiplash related claims. Whilst it may not offset the increase in cost of claims created by the reduction to the discount rate it supports member views that this an area of risk that needed a firm hand and a clear steer.

It certainly gives us plenty to be getting on with in the coming months. On a final note, supporting and showcasing risk management within the public sector is our forthcoming Alarm Conference, held again at the University of Manchester (25-27 June). We hope it will serve to give members, sponsors and partners a chance to network and celebrate the great work undertaken within our profession.

Readers can visit www.alarm-uk.org for details on this important event.
Related Articles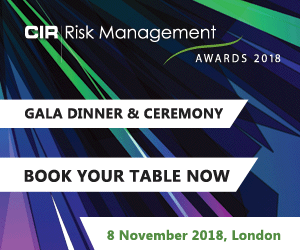 Download the latest
digital edition of
CIR Magazine
Power transmission and distribution risk
Description
Mark Evans talks to Barry Menzies, head of MIDEL ester-based dielectric fluids, at specialist manufacturer M&I Materials, to discover how ester fluids can help reduce the risks associated with transformer applications.
Most read stories...