VIEW: On the widening array of risks faced across the public sector
Written by Beverley Nichol-Culff, Head of Risk Management & Insurance, Office of the Police & Crime Commissioner for West Yorkshire
2017-09-18
The public sector continues to go through organisational change programmes in order to meet significant saving targets due to loss of external funding and budget reductions whilst delivering services more efficient and effectively – all this against a backdrop of ever-changing risk dynamics.

The Police and Crime Act 2017 introduces a new statutory duty for a proactive approach to collaborate for all three emergency services and enables Police and Crime Commissioners to take on the functions and duties of Fire and Rescue Authorities where a local case is made.

The challenges of crime and the expectations on policing presents great challenges and opportunities, which creates ever-changing risk management. Cyber crime is an increasing threat as under reporting continues to obscure true scale and cost with most competent cyber criminals now moving towards targeting business and payment systems rather than individuals due to the prospect of greater rewards, as we have seen with the recent ransomware attacks. The use of technology and social media to facilitate a wide range of organised crime including child sexual exploitation and abuse, human trafficking, modern slavery, fraud and radicalisation. This continues to increase, creating more complex demand on resources.

There has been significant activity in relation to terrorism following the Westminster, Manchester, London Bridge and Finsbury Park attacks. This raises the question: should the police service be routinely armed? We have seen other new risks in the headlines including increases in possession of weapons, acid attacks, offences relating to mopeds, the surge in use of fentanyl and a review of building regulations following the Grenfell Tower Fire.

Meanwhile, we are all preparing for the General Data Protection Regulation, which is scheduled to come into force in May 2018 and creates more rights for individuals and more obligations for data processes. Breaches could lead to significant financial penalties and adverse reputational damage, adding to the already wide-ranging risks now faced in the public sector.
Related Articles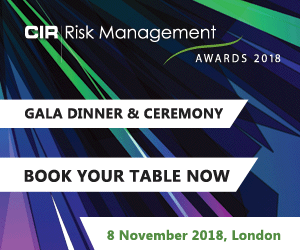 Download the latest
digital edition of
CIR Magazine
Power transmission and distribution risk
Description
Mark Evans talks to Barry Menzies, head of MIDEL ester-based dielectric fluids, at specialist manufacturer M&I Materials, to discover how ester fluids can help reduce the risks associated with transformer applications.
Most read stories...