VIEW: On the risk profession's own risks
Written by Clive Clarke, chairman of Airmic
2017-01-24
As risk professionals, we spend a lot of time considering the new and emerging risks facing our organisations. But how often do we look closer to home? What about the risks facing our own profession? The UK risk management industry is in good health, with an excellent talent pool and growing status within organisations. But it could be failing to attract young people.

As a career, it is dynamic, challenging and well paid; it has so much to offer graduates. But this message is not getting through to school and university leavers who continue to flock instead to banking and management consultancy. According to Deloitte, only 0.5% of UK business school students said they would work for an insurer. And this matters.

The business world is changing faster than ever and risk management needs to change with it. The skills required of a risk manager in 10 years' time will be quite different from those required today and so the continued relevance and success of our profession will suffer if we don't act soon to bring in younger recruits.

The digital world is impacting all aspects of business life, to the extent that it is changing business models and vastly altering the risk landscape. Our profession needs to adapt to stay relevant. While the risk managers of the future won't necessarily need a technological background, they will require enough understanding to have a meaningful conversation about the risks associated with digitisation. That is not to say current professionals cannot develop these skills – they can and are. But having the relevant young talent in the mix means organisations can better incorporate new ways of thinking.

The industry therefore needs to work more collaboratively to target school leavers, higher education and university graduates. For this reason, Airmic is discussing options for partnering universities and business schools. It will take an industry-wide effort but we have a fantastic career to offer to young people. The world is changing, and by acting now, we can ensure we always have the knowledge and experience to deal with new risks and opportunities – not just in 10 years' time, but for decades to come.
Related Articles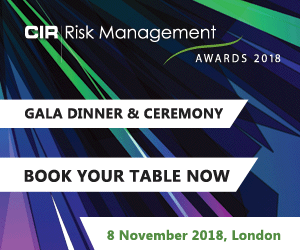 Download the latest
digital edition of
CIR Magazine
Power transmission and distribution risk
Description
Mark Evans talks to Barry Menzies, head of MIDEL ester-based dielectric fluids, at specialist manufacturer M&I Materials, to discover how ester fluids can help reduce the risks associated with transformer applications.
Most read stories...