VIEW: On fracking risks and insurance
Written by Ant Gould, director of faculties, Chartered Insurance Institute
2016-09-16
By looking forwards to potential risks, the insurance profession can not only bolster its, dare we say, poor reputation for innovation but also ensure it is acting in the public interest by not only providing protection but encouraging prevention.

It is with this in mind that the CII Claims Faculty New Generation Group looked at the issue of fracking. The group reviewed the risks and associated perils that may arise from fracking activities and how any unforeseen incident could affect a variety of insurances; whether the insurance industry does provide appropriate cover; and if this could change in the future. They have focused their attention on risks related to explosion, earthquake, pollution, subsidence, riots and injury.

Whilst the report observes that existing insurance products appear to presently provide adequate cover for consumers and small businesses, and that no insurers have said that they will look to specifically exclude fracking, it also notes that at the same time there are also not any insurance policies that specifically cover it either. As a seasoned observer I would suggest there is an opportunity here for the insurance market to make a sharp about-turn on its attitude at claims stage. Just think about the volcanic ash scenario from a few years ago – this peril was not specifically covered and whilst some insurers paid out on claims, others did not.

The group is still finalising its report, but based on the early draft of their findings it seems likely they will suggest that a cross government/industry body be established to review current legislation and regulations to ensure there is no complacency and that all action is undertaken to reduce potential risks occurring. The insurance industry, the government and interested parties could for example work together now to create a plan/process to monitor developments, incidents and claims – whether covered or not – on a national scale. The ability to spot patterns, surges and increases in claims activity at an early stage should surely be part of good industry practice. The CII New Generation Group report will be published at www.cii.co.uk this autumn.
Related Articles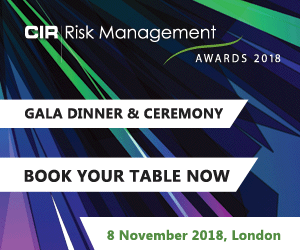 Download the latest
digital edition of
CIR Magazine
Power transmission and distribution risk
Description
Mark Evans talks to Barry Menzies, head of MIDEL ester-based dielectric fluids, at specialist manufacturer M&I Materials, to discover how ester fluids can help reduce the risks associated with transformer applications.
Most read stories...