VIEW: Developments at the IOR
Written by George Clark, chairman, the Institute of Operational Risk
2017-05-03
Since its formation in 2004 the Institute of Operational Risk has expanded internationally through a number of chapters in the UK and Europe, Hong Kong and Nigeria. Throughout this period our mission has been solely focused on developing the discipline of operational risk. In 2016 we set our future strategy towards becoming the professional body of choice for operational risk practitioners.

Our mission has not changed and we aim to develop thought leadership and research in the discipline, hold events sharing knowledge and good practice and seek to better describe why the discipline really matters.

In addition to having some great global thought leaders as members, we also have a number of regulators and large corporates amongst our membership. We regularly talk to international regulators to better understand their thinking and to offer our views. We have also recently partnered with the Berkeley Research Group to conduct a survey on cyber security. Most recently, the Institute has also developed responses to the BIS review of the new Standard Measurement Approach (SMA).

We continue to develop these opportunities and to reflect them in our events so that members can access developments and consider alternative views. As part of that, we have a LinkedIn group that has attracted some 6,000 participants.

We can certainly do more in this space and continue to develop our education programmes and grow as a professional body. Our immediate focus is on launching an externally accredited Certificate in Operational Risk Management.

We hope to begin rolling this out soon, with a full launch planned for later in the year. We know that there is an industry and regulatory demand for this from our research and already have candidates signed up from across the UK and Asia. We will also continue to engage with regulators and the industry on wider operational risk issues, and are considering the role that professional bodies such as ours can play in the
UK implementation of the expanded Senior Managers Certification regime.
Related Articles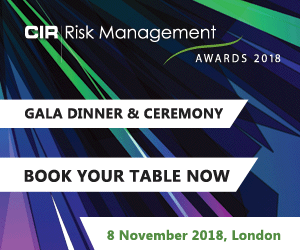 Power transmission and distribution risk
Description
Mark Evans talks to Barry Menzies, head of MIDEL ester-based dielectric fluids, at specialist manufacturer M&I Materials, to discover how ester fluids can help reduce the risks associated with transformer applications.
Most read stories...

Download the latest
digital edition of
CIR Magazine