UN warning over increased fire risk from climate change
Written by staff reporter
2017-06-23
The United Nations Office for Disaster Risk Reduction (UNISDR) has claimed that climate change is greatly increasing the likelihood of devastating wildfires, such as the one that caused such devastation across Portugal last weekend but is now reported to be under control.

More than 60 fires broke out in a densely forested area near the small town of Pedrógão Grande, 200km north-east of Lisbon, killing more than 60 people, in what Portuguese Prime Minister Antonio Costa described as the country's "greatest human tragedy in living memory".

"Climate change is greatly increasing the likelihood of devastating fires, such as the one that struck Portugal over the weekend," warned Dr Robert Glasser, the United Nations Special Representative of the Secretary-General for Disaster Risk Reduction. He urged countries to integrate climate change risk in their fire prevention and response planning. "The fire highlights the urgency of global efforts to reduce greenhouse gases as quickly as possible", he added. 

Organisations in regions where wildfires are a possibility need to consider how they would respond to such an incident, or any incident that could result in the loss of facilities, danger to staff, or the evacuation of people from the region. Actions that need to be thought through are how to communicate with staff, or other stakeholders, during the event, primarily to ensure their safety, but also to liaise with them about alternative work arrangements. If facilities have been damaged then they will need to consider where staff can work both in the short-term and the long-term, bearing in mind that staff may not want to work in the short-term as the organisation is unlikely to be their top priority.

Adverse weather, which can lead to the conditions that cause and spread wildfires, such as no rainfall, high temperatures and strong winds, featured fifth in the list of concerns that business continuity professionals. The issues were identified in the Business Continuity Institute's latest Horizon Scan Report. Despite the new UNISDR warning, climate change is not yet considered an issue by many organisations however, as only 23% of respondents to a global survey considered it necessary to evaluate climate change for its business continuity implications.
Related Articles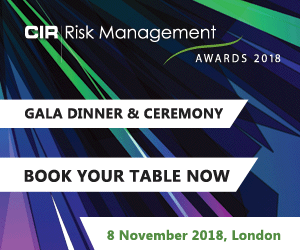 Download the latest
digital edition of
CIR Magazine
Power transmission and distribution risk
Description
Mark Evans talks to Barry Menzies, head of MIDEL ester-based dielectric fluids, at specialist manufacturer M&I Materials, to discover how ester fluids can help reduce the risks associated with transformer applications.
Most read stories...