UK insurance brokers resilient despite Brexit uncertainty
Written by staff reporter
2017-02-23
With Article 50 due to be triggered by the end of March, UK brokers remain resilient despite initial post-Brexit uncertainty, according to the findings of the Q4 Broker Pulse survey from insurance and risk law firm BLM.

Of those questioned, 97% said that they had not seen a drop in appetite for UK insurance products since the EU referendum vote last June. This was the key finding from the most recent Broker Pulse, a quarterly poll which questions UK brokers on issues affecting their community.

Helen Devery, partner and head of broker sector at BLM, said: "The International Underwriting Association previously stated that £7.3 billion of premiums currently written in London could be affected upon leaving the EU. Yet, our results show that Brexit seems to have had no direct negative effect on the broker sector so far, which is very promising.

"Although the vote to leave didn't have the impact on the sector that was first anticipated, this round of the Broker Pulse did still highlight that 65% of brokers see the consequences of Brexit as a key risk to their customers while the future remains uncertain."

The Q4 Broker Pulse also revealed that 55% of brokers in the UK think the risk of negligence claims against them has risen as a consequence of the Insurance Act 2015, suggesting that the change in legislation could have both positive and negative consequences.

"With the Insurance Act came the requirement for fair presentation of risk and these findings suggest that this is a concern for the majority of the broker community. It is therefore important that brokers are well informed about what information is needed and from whom if they are to reduce the risk of facing negligence claims," Devery continued. "These results regarding the internet of things confirm a suspicion that the rise of the connected home will likely lead to an increased risk of household devices malfunctioning. The expected rise in popularity of connected devices also begs the question as to how they will be insured in the next few years, since many of them could also require cover for cyber risk as they are increasingly being targeted by hackers."


In figures: Broker Pulse: Other findings (Source: BLM Broker Pulse)

• 57% of brokers see product liability cover for manufacturers of connected home devices as a potential growth area in the next ten years.

• 48% of brokers are seeing an increased appetite for directors and officers' liability insurance for cyber threats and regulatory scrutiny.

• Only 20% of brokers have seen their customers respond to recent health and safety fines under the new sentencing guidelines with increased board level engagement.
Related Articles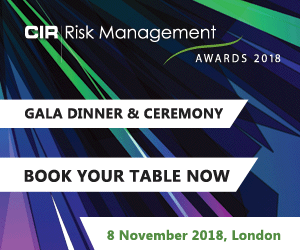 Download the latest
digital edition of
CIR Magazine
Power transmission and distribution risk
Description
Mark Evans talks to Barry Menzies, head of MIDEL ester-based dielectric fluids, at specialist manufacturer M&I Materials, to discover how ester fluids can help reduce the risks associated with transformer applications.
Most read stories...