Typhoon leads to evacs, sweeps away cargo in Taiwan
Written by staff reporter
2016-09-15
The strongest storm of this year and the most intense typhoon since Super Typhoon Haiyan struck the Philippines in 2013, Super Typhoon Meranti has led to the evacuation of 1,500 people, according to catastrophe modelling firm, AIR Worldwide, with rough seas and storm surge disabling a large number of boats, including a Kaohsiung freighter, which lost containers as it was swept away. Many vehicles, have been washed away in flooded streets. Upwards of 4,000 members of the military and police have been assigned to provide support for possible additional evacuations.

According to government authorities, more than 260,000 households have lost power in southern Taiwan, and two nuclear power plants reportedly were shut as a precaution. Throughout southern Taiwan, schools and businesses were closed, including in Kaohsiung City and the counties of Hualilen, Penghu, Pingtung, and Taitung. Travel has been widely impacted, with hundreds of domestic and international flights cancelled, train service suspended, and bus service curtailed.

The heavy wind and flooding from Meranti is expected to delay some grain and oil shipments. State-owned Taiwanese oil refiner CPC Corp and Formosa Petrochemical Corp, for instance, shuttered ports in Kaohsiung and Mailiao. Power was lost to the entire province of Batanes Tuesday evening, and rescue teams were placed on standby. In addition, many farmers in affected islands harvested early to reduce crop loss.

According to AIR, strictly enforced building codes throughout the nation have resulted in structures with generally good wind resistance. Low- to mid-rise buildings in Taiwan typically have reinforced concrete frames with brick infill walls. Some masonry residential buildings can also be found, although the majority of these were built prior to 1950. In recent years, these residences have given way to mid-rise apartment buildings and three-story residences, with both types generally of masonry construction. Most buildings in the country are fairly new, however, and recent residences tend to be high-rise complexes built in clusters, predominantly reinforced concrete and many with ceramic façades (although some are steel).

The commercial and industrial buildings in Taiwan usually date to 1970 or later and generally are built to better structural standards than residences. About half of Taiwan's commercial and industrial stock is made of steel while the rest is mostly reinforced concrete.

Damage to property in Taiwan is generally distributed equally between wind and flood, but storm surge damage can be appreciable, particularly along the west coast of Taiwan and can heavily affect Taipei area and Kaohsiung area through Tamsui River and Love River.

According to AIR, Taiwan's residential buildings usually have commercial establishments on the first floor, while the upper stories are used for residential purposes. The mixed occupancy use in Taiwan makes the vulnerability of residential and commercial lines of business very similar.
Related Articles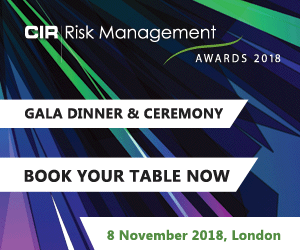 Download the latest
digital edition of
CIR Magazine
Power transmission and distribution risk
Description
Mark Evans talks to Barry Menzies, head of MIDEL ester-based dielectric fluids, at specialist manufacturer M&I Materials, to discover how ester fluids can help reduce the risks associated with transformer applications.
Most read stories...