Typhoon Rammasun heads for Manila
Written by staff reporter
2014-07-16
According to catastrophe modelling firm AIR Worldwide, with sustained winds of 157 km/h (~98 mph), Typhoon Rammasun made landfall in the Philippine province of Sorsogon July 15, late afternoon local time, and headed toward Manila. Although smaller and much less intense than deadly and highly destructive Super Typhoon Haiyan – which devastated parts of the Philippines in November 2013 – Typhoon Rammasun nonetheless prompted sizable evacuations and resulted in some disruption of transportation, as well as school and office closings. Widespread damage is not expected, but some areas could experience storm surge flooding, flash flooding, and/or mud slides, as well as wind damage.

"Rammasun rapidly intensified in the 12-hour period prior to landfall, with its central pressure decreasing from 975 to 945 mb and maximum sustained wind speeds increasing from 120 to 157 km/h (~75 to ~98 mph), according to JMA intensity estimates," said Dr Kevin Hill, senior scientist at AIR Worldwide. "At landfall, Rammasun featured the well-defined eye and symmetric eyewall, indicative of a strong typhoon. Rammasun is not a significant threat to areas affected by Typhoon Haiyan (2013)."

Typhoon and flood damage are usually covered together in the Philippines and are given under separate fire policies with named perils extensions. Insurance penetration varies by region. Typhoon Rammasun will affect some densely populated and urban areas, including Manila, where insurance penetration for residential lines would be around 5-10%, 25-30% for commercial/industrial. Still, given that insurance penetration in this area is around 10% to 20%, insured losses are not expected to be significant as a result of this typhoon.

Typhoon Rammasun will bring heavy rains and high winds to the central Philippines as it travels west-northwest toward the South China Sea. Depending on the Rammasun's structure as it leaves land, the storm could reintensify over the water, prior to threatening Southern China and Vietnam.

Dr Hill observed, "Upon reemerging in the South China Sea, conditions appear favourable for modest restrengthening, with warm sea surface temperatures and favourable upper-level conditions. The JMA forecast from 12 UTC July 15 indicates modest restrengthening over the South China Sea, with the central pressure decreasing to 970 mb and maximum sustained wind speeds increasing to 130 km/h (~80 mph), as Rammasun approaches Hainan. The Joint Typhoon Warning Center forecast indicates more significant intensification in the South China Sea, with maximum wind speeds approaching 194 km/h (~120 mph). The degree of reintensification over the South China Sea will be highly dependent on the structure that Rammasun is able to maintain as it traverses the Philippines, and therefore is highly uncertain at this time."

According to AIR, given the expected wind speed and track, Typhoon Rammasun will impact a region of the Philippines that is largely rural and agricultural, although some cities are in the path of the storm. Given that the region is generally less urbanized and less accustomed to typhoons, construction types and standards are lower than those in the northern islands. While reinforced masonry structures are typical, light materials – such as wood frames with galvanized iron and aluminum roofs – are frequently used for residential buildings in these rural areas, making them more vulnerable when compared with those in neighbouring Hong Kong, or Taiwan. These homes constructed of light material may experience moderate- to high-level cladding and roofing damage, involving loss of roof covering as well as the removal of porch coverings and awnings; some of these homes could even be destroyed. In extreme instances, some structurally deficient buildings could even collapse.

According to AIR, well-constructed engineered buildings could have some damage to roofing and siding, especially from windward corners, rakes, and eaves. Some apartment building and shopping centre roof coverings could experience moderate levels of damage, and wall siding may also experience some moderate levels of wind damage. Structural damage is not expected for engineered structures.

Some evacuations were ordered as Typhoon Rammasun approached the Philippines; because of the risk of storm surge flooding, flash floods, and mud slides, other evacuations also could occur as the storm crosses the country.
Related Articles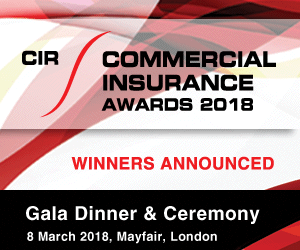 Power transmission and distribution risk
Description
Mark Evans talks to Barry Menzies, head of MIDEL ester-based dielectric fluids, at specialist manufacturer M&I Materials, to discover how ester fluids can help reduce the risks associated with transformer applications.
Most read stories...
World Markets
(15 minute+ time delay)

Download the latest
digital edition of
CIR Magazine