TRIA expiration: Implications and risk assessment strategies
Written by staff reporter
2014-12-19
Efforts to reauthorise the Terrorism Risk Insurance Act (TRIA) fell apart late on December 16, 2014, after the Senate failed to extend the program prior to adjourning for the year. Without a renewal, TRIA is set to expire on December 31.

"The tragic terror attacks on September 11, 2001, resulted in the second highest insurance loss in US history and impacted multiple commercial insurance lines of business simultaneously," said Alissa Legenza, risk consultant at AIR Worldwide. "Immediately following these attacks, the availability and affordability of terrorism coverage became increasingly scarce – especially for risks in terror prone areas. In 2002, Congress responded by enacting TRIA into law, putting a temporary federal backstop program in place that would allow for a public and private sharing of insured losses resulting from future acts of terrorism against the United States. TRIA has since been amended and extended twice and was last reauthorized through December 31, 2014, according to the Terrorism Risk Insurance Program Reauthorisation Act of 2007. No acts of terrorism that have occurred since the initial passage of TRIA have met the requirements for coverage under the program. Even so, the ongoing threat of terrorism in the United States underscores the continued need for the federal backstop program to ensure the stability of the commercial insurance market."

Efforts made by Congress over the past year to avoid the impending expiration were widely expected to result in another renewal of TRIA. On December 10, signalling that a potential deal to renew the program was close, the US House of Representatives voted 417-7 to approve a measure that would reauthorise TRIA for an additional six years. However, efforts fell apart soon after, on December 16, when the Senate failed to extend the program and instead adjourned for the year.

Despite the strong bipartisan support for this measure in both chambers of Congress and despite the overwhelming support from the insurance industry and many other market sectors, the Senate failed to come to an agreement. Issues surrounding unrelated policy riders attached to the TRIA reauthorisation bill ultimately blocked the possibility of bringing the measure to a vote in the Senate.

TRIA is now set to expire on December 31. With both chambers of Congress currently scheduled to adjourn for the remainder of the year, this presents the very real possibility that TRIA will expire at the end of this year. It remains unclear how quickly the next Congress could move to take up the matter again next year, if TRIA does expire.

Implications of TRIA Expiration

If TRIA expires, commercial insurers will no longer be required to offer terrorism coverage beginning January 1. Without a federal backstop, insurers may seek to limit underwriting for high concentrations of risks in major cities – causing terrorism insurance coverage to become unavailable or unaffordable. Insurers that do continue to offer commercial terrorism insurance would likely be required to maintain higher capital standards in order to avoid negative rating implications. Where coverage for terrorism-related events is still available, prices for this coverage will increase.

In the absence of TRIA, the workers' compensation insurance market would be particularly vulnerable to terror attack losses. State workers compensation statutes offer insurers less flexibility to control terrorism risk through modifications such as policy limits or coverage exclusions. With or without TRIA, it is mandatory for U.S. employers to provide workers' compensation coverage. If coverage is not available, employers may be forced to purchase insurance in the residual markets or self-insure. This could result in large amounts of risk being transferred to the residual market in a few states.

Allowing TRIA to expire would have widespread implications, not only for the insurance industry, but also for the broader economy. Construction and real estate business sectors may be unable to obtain financing without adequate terrorism coverage in place. If insurers limit underwriting following an expiration of TRIA, businesses with high concentrations of employees could have difficulty obtaining coverage for workers' compensation, including higher education institutions, hotels, airports, hospitals, and financial services, among many others.

Terrorism risk assessment

Since 9/11, commercial insurers have become increasingly reliant on catastrophe models designed to quantify and manage the risk of losses from future terrorist attacks. The AIR Terrorism Model was first released in 2002 and has been extended across many applications in AIR's Touchstone platform and can be used to generate a clear picture of overall exposure to terrorism risk. In general, the goals and processes of terrorism risk modelling mirror those of natural catastrophe risk analysis.
Related Articles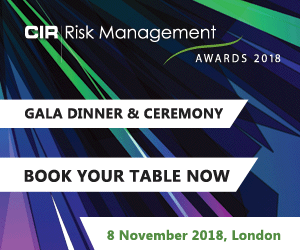 Download the latest
digital edition of
CIR Magazine
Power transmission and distribution risk
Description
Mark Evans talks to Barry Menzies, head of MIDEL ester-based dielectric fluids, at specialist manufacturer M&I Materials, to discover how ester fluids can help reduce the risks associated with transformer applications.
Most read stories...