Study reveals finance's perception of operational risk
Written by staff reporter
2017-01-19
A new study of senior financial executives has identified the top operational risks that have harmed their companies in the past five years. Sixty-six per cent of financial executives surveyed say their organisations have been harmed by equipment failure, nearly 60% say their firms have been impaired by data breaches or cyber attacks, and more than half (52%) have had their operations affected by natural disasters. Yet the majority (54%) say their organisations have not developed or tested formal loss-recovery plans.

"It's surprising the number of companies that have been harmed by operational risk events, coupled with the relatively low number of companies that feel they are very well prepared for a disruption event," said Eric Jones, operations vice-president and global manager of business risk consulting at FM Global, which commissioned the research. "The findings reveal the opportunity for financial executives to implement stronger plans with increased data, to help move resilience forward within their organisations."

The study also shows low levels of preparedness for operational risk events. Only 34% of financial executives believe their firms are very well prepared to recover from an equipment failure. Just 33% feel their organisations are very well prepared to recover from a natural disaster, while merely 24% feel their companies are very well prepared to recover from a data breach or cyber attack.

'Finance's Role in Operational Risk Management: CFO Research on Building a Resilient Company', also suggests an increasing perception of risk among CFOs. Almost 70% of financial executives are concerned that their revenues or earnings will become more vulnerable to operational risk over the next two years, and nearly 60% say the need to manage operational risks will make it more difficult to meet revenue and earnings targets over the next two years.

FM Global's research suggests a growing acceptance of the need for increased resilience in the future. Overall, the study found a need for improved resiliency in the future. Eighty-six per cent of respondents say their companies will need to be more resilient in the future.

"The role of the CFO is being increasingly challenged by serious risk events, which drive volatility and will make it more difficult for them to meet revenues and earnings if these risks are not properly managed," said Jones. "The pathway to a successful risk management programme must include an effective loss prevention programme, combined with resilience planning in order to deal with constantly evolving technological, political and environmental risks."

The research is based on responses received during late 2016 from 100 chief financial officers or senior most financial executives at US-based companies, the majority of which are from Fortune 1000 organisations across a wide variety of industries.
Related Articles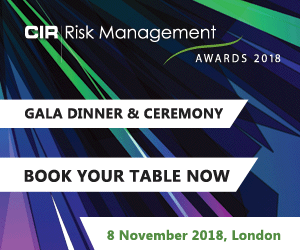 Download the latest
digital edition of
CIR Magazine
Power transmission and distribution risk
Description
Mark Evans talks to Barry Menzies, head of MIDEL ester-based dielectric fluids, at specialist manufacturer M&I Materials, to discover how ester fluids can help reduce the risks associated with transformer applications.
Most read stories...