Risk profession in unprecedented transformation, Airmic study reveals
Written by staff reporter
2017-06-13
The risk management profession is undergoing unprecedented transformation in terms of its strategic influence and scope, as well as the nature of risks it is facing. This is according to research conducted by Airmic. Its study shows the profile of risk management within most organisations as higher than ever, with its importance now widely recognised at board level -- a trend that is set to continue, according to the majority of risk and insurance managers polled.

The research, published at Airmic's annual conference in Birmingham this week, also revealed a striking change in the nature of risks causing businesses the biggest concern, with almost all of the top ten risks being non-physical in nature. Loss of reputation or brand value was the top concern for risk managers, with risks related to cyber the second and fourth. Market developments such as increased competition and market stagnation was the third most pressing concern.

Emerging technologies, such as artificial intelligence, and disruption to business models caused by these new technologies were the fastest growing risks. Almost a quarter of respondents anticipate these becoming a top-three concern in three years' time.

"The degree and pace of transformation is far greater than we imagined. Risk professionals are dealing with a risk landscape that is moving faster than ever before and in many dimensions at the same time," Julia Graham, Airmic's deputy CEO and technical director, commented. "These are not future developments – they are happening here and now. As a profession, we need to adapt, upskill in certain areas, and adopt a different way of thinking in order to rise to the challenge."

Risk managers are aware of the magnitude of change, with three quarters believing that the risk profession must undergo significant change. While the research suggests that the profession is responding positively to the increasing demands, it also revealed several areas of challenges.

For example, risk managers are having to rapidly acquire a broad range of skills and experiences. Use of technology and data analytics are two key areas. More than a third of risk managers (35%) say that their use of analytics tools today is limited, but within three years, more than half of risk managers (56%) expect to be using data analytics extensively in their roles.

The report also showed that a silo mentality to risk pervades, and revealed a clear need for risk managers to develop stronger networks across organisations. Only half of respondents have regular and close collaboration with information security, for example, despite cyber being perceived as one of the biggest threats.
Related Articles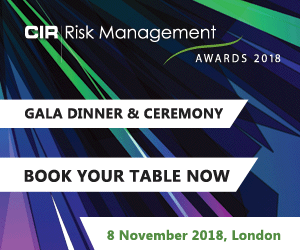 Download the latest
digital edition of
CIR Magazine
Power transmission and distribution risk
Description
Mark Evans talks to Barry Menzies, head of MIDEL ester-based dielectric fluids, at specialist manufacturer M&I Materials, to discover how ester fluids can help reduce the risks associated with transformer applications.
Most read stories...