Report warns global companies remain highly vulnerable to deforestation risks

Written by Staff Reporter
2016-12-07
Up to US$906 billion in company turnover depends on commodities that drive the majority of tropical deforestation globally according to a report by the Carbon Disclosure Project (CDP).

Some of the world's largest companies - including Colgate Palmolive, L'Oréal, McDonald's Corporation and Marks & Spencer - report in the study that, on average, nearly a quarter (24%) of their revenues depend upon four deforestation-linked commodities: cattle products; palm oil; soy; and timber products. As much as US$906 billion in annual turnover could be at risk according to the CDP report which highlights how vulnerable companies are to deforestation risks.

The report, 'Revenue at risk: Why addressing deforestation is critical to business success', finds that despite the fact that a significant share of income is derived from commodities linked to deforestation, fewer than half (42%) of companies have evaluated how the availability or quality of these commodities will impact their growth strategy over the next five or more years. This suggests that companies are overlooking potential business risks linked to deforestation. These risks include impacts arising from the physical effects of climate change on the quality, availability and prices of commodities; tightening regulation; and brand damage from increasing media and society scrutiny of commodity-sourcing practices.

Already, 81% of agricultural producers say they have experienced deforestation-linked impacts in the past five years that have led to substantive changes to their business. Marfrig Global Foods say drought conditions have resulted in higher operating costs and reduced beef production in the Brazilian industry. And Wilmar International report impacts on brand value as customers become more sophisticated in their demands for sustainable products that are traceable and deforestation-free.

These companies produce the commodities that are fed down global supply chains and end up in products ranging from ice cream to toothpaste, footballs and lipstick. Katie McCoy, head of forests at CDP, said: "Companies need to address the sustainability of products that drive deforestation quite simply to protect their balance sheets. Supply chains are like rows of dominoes: if unsustainable commodities enter the top of a supply chain, the effects will cascade throughout.

"Failing to address deforestation will have knock-on reputational impacts, manifesting themselves as consumer boycotts, community opposition, and increased regulatory scrutiny. Business growth is at risk."

Across the four key commodities, a high percentage of reporting companies (72%) say they are confident that they will be able to source these supplies securely and sustainably in the future. The report warns this confidence may be misplaced because not only do the majority of companies not evaluate the supply or quality of deforestation-linked commodities over the next five or more years, but fewer than half (44%) of manufacturers and retailers with procurement standards monitor compliance with these standards and audit suppliers across commodities. In addition, only one in five assess deforestation-risks beyond a six-year horizon across commodities, and on average, only 30% of manufacturers and retailers can trace these commodities back to the point of origin.
Related Articles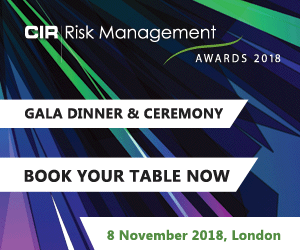 Download the latest
digital edition of
CIR Magazine
Power transmission and distribution risk
Description
Mark Evans talks to Barry Menzies, head of MIDEL ester-based dielectric fluids, at specialist manufacturer M&I Materials, to discover how ester fluids can help reduce the risks associated with transformer applications.
Most read stories...