Report identifies cities facing most extreme terrorism risk
Written by staff reporter
2015-05-20

Terrorist attacks pose an extreme risk to populations and business in the capital cities of 12 countries, including in the strategic markets of Egypt, Israel, Kenya, Nigeria and Pakistan, according to new research released by global risk analytics company Verisk Maplecroft, which assesses 1,300 of the world's most important commercial hubs and urban centres.

In total, 64 cities are categorised as 'extreme risk' in Maplecroft's Global Alerts Dashboard (GAD), an online mapping and data portal that logs and analyses every reported terrorism incident down to levels of 100m² worldwide. Based on the intensity and frequency of attacks in the 12 months following February 2014, combined with the number and severity of incidents in the previous five years, six cities in Iraq top the ranking. Over this period, the country's capital, Baghdad, suffered 380 terrorist attacks resulting in 1,141 deaths and 3,654 wounded, making it the world's highest risk urban centre, followed by Mosul, Al Ramadi, Ba'qubah, Kirkuk and Al Hillah.

Outside of Iraq, other capital cities rated 'extreme risk' include Kabul, Afghanistan (13th most at risk), Mogadishu, Somalia (14th), Sana'a, Yemen (19th) and Tripoli, Libya (48th). However, with investment limited in conflict and post-conflict locations, it is the risk posed by terrorism in the primary cities of strategic economies, such as Egypt, Israel, Kenya, Nigeria and Pakistan that has the potential to threaten business and supply chain continuity.

"An estimated 80% of global GDP is generated from cities," states Principal Analyst at Verisk Maplecroft, Charlotte Ingham. "Visibility of the sub-national differences in terrorism levels should be an imperative for multinational organisations looking to understand and price the risks to assets, employees and supply chains."

East and West Africa

As Africa's largest economy, Nigeria's role as a commercial hub is central to economic growth across the region. However, due to the activities of Islamist group Boko Haram and a surge in violence in the lead up to the March election, 13 out of the 24 Nigerian cities included in the assessment experienced a significant increase in the intensity and frequency of terrorist attacks compared to the previous quarter. The risk level in Abuja (18th), Nigeria's capital, has remained consistent, but it is rated among the top 2% of GAD's most at risk cities. Over the reporting period, Abuja suffered four attacks which resulted in 117 deaths.

While Boko Haram will remain the dominant terrorist threat in Nigeria, Verisk Maplecroft believes there is a possibility of hostilities resuming in the Niger Delta following the election of Mohammed Buhari. The amnesty protecting members of the militant group MEND is due to lapse and without successful negotiations this could mean disruption to the country's vital oil industry, in addition to attacks on key cities in the south east of the country.

The only other sub-Saharan capital to appear in the 'extreme risk' category is Nairobi (57th), East Africa's prime commercial centre, which has witnessed an upsurge in attacks by Islamist militant group al Shabaab. Over the reporting period 184 people have been killed or wounded in Nairobi in six attacks. The impact of terrorism on the country's main commercial hubs of Nairobi and Mombasa (82nd) has been particularly harmful to investor confidence. In addition, the tourist trade has declined by 7.4% costing the country an estimated US$73 million.

Europe

According to the report, Paris (97th and 'high risk') has experienced one of the steepest rises in the ranking, reflecting the severity of the terrorist attack in January 2015 that left 17 people dead. The risk level in Paris is representative of a wider trend for Western countries, including Belgium, Canada and Australia, where key urban centres face substantially higher threat levels than elsewhere in the country, in part due to the significant PR value attached to such high profile targets by militant Islamist groups.

This contrasts sharply with a number of developing economies, including Nigeria, Thailand, Philippines, Colombia and India, where the risk of terrorist attacks is highest in rural areas. This also remains the case in Egypt where large-scale attacks remain focused in the Sinai Peninsula. However, Verisk Maplecroft's data reflects increased risks in the country's two main commercial centres, Cairo (45th and 'extreme risk') and Alexandria (76th and 'high risk'), the latter of which has moved from 'medium' to 'high risk' over the last quarter.
Related Articles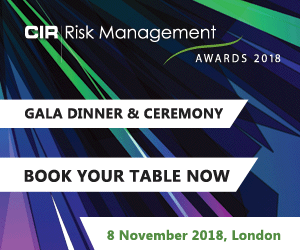 Download the latest
digital edition of
CIR Magazine
Power transmission and distribution risk
Description
Mark Evans talks to Barry Menzies, head of MIDEL ester-based dielectric fluids, at specialist manufacturer M&I Materials, to discover how ester fluids can help reduce the risks associated with transformer applications.
Most read stories...