Relentless winter weather makes for wettest months on record in UK

Written by Deborah Ritchie
2014-02-12
Over 370 mm rain has fallen across Scotland, Wales, and western and southern England during December and January, making it the wettest for those months since detailed data was first published, in 1910. The January rainfall total is the highest since 1766, according to the Met Office. The most recent January rainfall totals comparable to this year was in 1948.

Since October 2013, the United Kingdom has been experiencing a seemingly endless succession of severe winter storms that have produced multiple floods, even in areas off of floodplains. he rainfall has continued this week. As of the evening of Monday, February 10, heavy rainfall dumped up to 20 mm in areas of southern England and Wales, according to MeteoGroup, and another 30 mm are expected to fall Tuesday, February 11, in parts of southwestern England.

"Several of England's major rivers are either currently at flood stage or are expected to reach flood stage in the coming days," said Dr. Hemant Chowdhary, senior scientist at AIR Worldwide. "These include the River Thames, and the Severn and Stour rivers. The Environment Agency currently has 16 severe flood warnings in effect, with 14 in Berkshire and Surrey, and 2 in Somerset."

According to the Environment Agency, river levels are expected to remain particularly high in the River Thames in Windsor and Maidenhead and Surrey for (at least) the next three days, as the river reacts to recent and forecast rainfall. This brings a high flood risk from river flooding in these areas. Impacts are expected to include widespread flooding affecting significant numbers of properties and whole communities and significant disruption to travel.

There is also a medium flood risk for (at least) the next three days along the Thames in Oxfordshire, Reading and West Berkshire, as highlighted by the amber colour on the maps. This disruption may include flooding to significant numbers of properties, parts of communities, disruption to infrastructure identified in flood plans and travel disruption. In Somerset there is a high flood risk from river flooding on the Somerset Levels today (Wednesday) and on Thursday, with a high likelihood of continued severe impacts.

On Friday the river flood risk across the Somerset Levels is likely to drop to medium. Significant impacts are expected to continue in this area through the next week.

For the Dorset coastline there is a medium flood risk today due to a combination of large waves and gale force winds. There is also a low coastal flood risk along the entire Welsh coastline and north-west England coastline, especially around this evenings high tide. Impacts are likely to include spray and wave over-topping in localised areas, with the risk of further degradation of natural sea defences in Dorset.

In Worcestershire (River Severn) there is a medium flood risk for the next three days. There is also a lowflood risk for the next three days along parts of the river Severn and the lower Dee in Cheshire and for parts of the Great Ouse.

Disruption in these areas may include flooding of individual properties and parts of communities as well as disruption to travel. There is an ongoing medium flood risk from groundwater flooding in Hampshire, Kent and Greater London (Croydon area) for the next three days. Significant impacts are possible such as flooding to properties and roads, and may lead to some travel disruption.

There is also a low groundwater flood risk in Dorset, Wiltshire and much of south-east England through the next three days.
Related Articles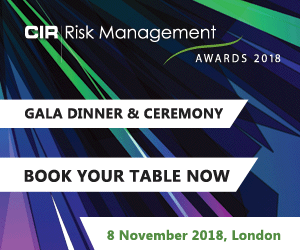 Download the latest
digital edition of
CIR Magazine
Power transmission and distribution risk
Description
Mark Evans talks to Barry Menzies, head of MIDEL ester-based dielectric fluids, at specialist manufacturer M&I Materials, to discover how ester fluids can help reduce the risks associated with transformer applications.
Most read stories...