Reinsurance demand rising, according to Aon report
Written by staff reporter
2016-09-13
Reinsurance demand has increased over the past 18 months, with the cession ratio across the global property and casualty insurance industry registering a small rise for the first time in several years. This is according to an Aon Benfield report, which also suggests the trend will continue for the remainder of 2016.

CEO of Aon Benfield, Eric Andersen, said the catalysts for the increased demand for property and casualty reinsurance include "the emergence of poor underwriting results in certain casualty classes, out-sized losses from regional exposures, and the introduction of the Solvency II regulatory regime across the European Union".

Meanwhile, the report highlights a number of key emerging areas of growth for the re/insurance industry:

• Property catastrophe – demand for property catastrophe protection is expected to remain relatively stable for January 2017 renewals, absent any material reinsured loss events. While certain regions affected by regulatory changes may look to secure additional capacity, overall demand change is expected to increase by approximately 5% across the market.

• Cyber – demand for cyber insurance coverage and product continues. With approximately US$1.7bn in premium, nearly 90% of the market is based in the United States, with annual growth running at 30 to 50%. International growth will be driven by upcoming European Union regulations covering data protection that will become effective in 2018.

• Crop – While a more mature market, crop re/insurance has returned to profitability in the US. Growth has mainly emanated from Asia with the Indian market seeing five times the insurance premiums for the 2016/2017 season compared to the year prior. Thailand has also seen growth, albeit not as significant.

The report further reveals that the low interest rate environment that has persisted in the developed world since the 2007 financial crisis has had a pervasive effect on traditional re/insurance carriers that are mainly invested in cash and bonds, and has significantly influenced market behaviour.
Related Articles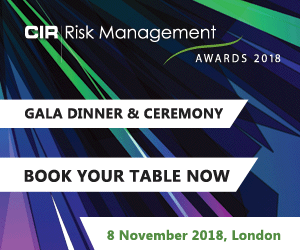 Download the latest
digital edition of
CIR Magazine
Power transmission and distribution risk
Description
Mark Evans talks to Barry Menzies, head of MIDEL ester-based dielectric fluids, at specialist manufacturer M&I Materials, to discover how ester fluids can help reduce the risks associated with transformer applications.
Most read stories...