Recent attacks broadening insurers' views of commercial risks
Written by staff reporter
2017-06-20
The nature and effects of the recent terrorist attacks in London and Manchester are broadening the industry's understanding of terrorism insurance, and could result in a permanent shift away from policies based on damage to property.

Nick Bradley, an insurance law expert at Pinsent Masons, has warned that insurers need to take an altogether different view of the potential risks being faced when it comes to terrorist attacks. Traditionally, terrorism policies have tended to kick in when there is damage to the property of the insured. But the real damage caused by the 'lone wolf'-style tactics adopted by the attackers at Westminster, Manchester Arena and London Bridge was loss of life, injuries and significant disruption to local businesses. So-called 'denial of access' cover, for example, tends still to be linked to property damage.

"Insurers must focus on how business interruption cover is being extended beyond the realm of property damage," said Bradley. "The development of contingent business interruption cover in response to recent earthquakes and floods that have affected global supply chains is a good example of an alternative approach, although even here there has to be an element of damage to the supplier of a business, if not to the business itself.

"We are seeing the growth of business interruption products such as those available in the cyber market in relation to data breaches that lead to loss of profits and other intangibles. However, these products are still in the relatively early stages and need further development."

A recent report by Pool Re, the UK's government-supported terrorism risk reinsurer, described as "unprecedented" the three recent attacks in the UK. Pool Re's analysis found that the attacks had many common features. All of them were undertaken by Islamist extremists, took place in crowded places, including tourist locations and social venues where civilians were going about their day to day lives, and all seemed to be timed to maximise casualties, and civilians were indiscriminately targeted regardless of age, gender or nationality.

Bradley pointed out that attacks of this nature would have been completely unforeseeable when Pool Re was established in 1993, in response in part to the IRA bombing of the Baltic Exchange in London in April 1992. That attack, which killed three people, destroyed the Exchange building and caused huge property damage in the centre of the City of London. He said: "In those days, terrorists used bombs and sophisticated weapons and acted together. As a result, insurers continue to view terrorism risk as the risks of an organised plot or threat for doing damage to property. The result is a recognised 'insurance gap' for business interruption arising for non-property damage.

Taking the example of the Manchester Arena attack, The Insurance Insider estimates that the costs arising from cancellation and rescheduling of three concerts by Take That due to take place in the venue during the following days could result in a payout of between £500,000 and £1million.

In addition to the cost of repairing the damage to the building from the Manchester Arena attack, an even greater sum would have been caused by the wider business interruption costs resulting from the week-long closure of neighbouring Manchester Victoria station. "The question now is how quickly insurers might be able to adapt to these new realities," said Bradley.
Related Articles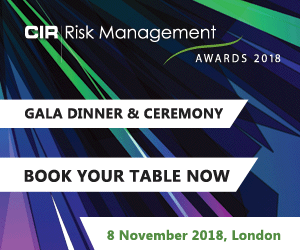 Download the latest
digital edition of
CIR Magazine
Power transmission and distribution risk
Description
Mark Evans talks to Barry Menzies, head of MIDEL ester-based dielectric fluids, at specialist manufacturer M&I Materials, to discover how ester fluids can help reduce the risks associated with transformer applications.
Most read stories...