RIMS pushes for reauthorisation of US government's flood backstop
Written by staff reporter
2017-08-16
Expiration of the US National Flood Insurance Program (NFIP) would leave many businesses with significant lapses in flood coverage, difficulty in procuring affordable coverage and uncertain of current and future flood regulation within their jurisdictions. This is the warning from US risk management society, RIMS, which is calling on its members to support its push for the reauthorisation of the government backstop due to expire on 30th September 2017.

"For thousands of organisations, the reality that access to affordable flood insurance might disappear and that their businesses would instantly become susceptible to destruction caused by flooding is unacceptable," says RIMS vice-president Robert Cartwright, Jr. "RIMS has launched a grassroots effort to ensure that the commercial insurance buyer's voice is heard and that legislators are reminded of the consequences of the NFIP's expiration and the need for expedient action."

The House and Senate have combined to introduce a number of bills intended to reauthorise and improve the programme, but differences in the bills must be agreed upon before the deadline is reached.
Related Articles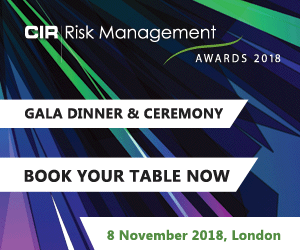 Download the latest
digital edition of
CIR Magazine
Power transmission and distribution risk
Description
Mark Evans talks to Barry Menzies, head of MIDEL ester-based dielectric fluids, at specialist manufacturer M&I Materials, to discover how ester fluids can help reduce the risks associated with transformer applications.
Most read stories...