Political risk forecasts predict little respite for 2016
Written by staff reporter
2016-01-08
The turbulence experienced across the world during 2015 is set to continue throughout the coming year, according to forecasts from Verisk Maplecroft, which predicts little respite from the political instability, civil unrest, economic volatility, security crises and geopolitical rivalries that defined the last 12 months.

In its annual analysis of the political risk outlook, Verisk Maplecroft highlights low commodity prices as one of the primary drivers of political risk for investors in major producing countries across Africa and Latin America, while the increasing international threat posed by the Islamic State and rising tensions between Iran and Saudi Arabia, are flagged among the foremost geopolitical risk multipliers.

Job losses in the extractives sector of Africa's resource-rich countries are expected to provoke industrial action, while the impacts of depressed oil, gas and metals prices on domestic government spending and rising living costs across the region are likely to stoke social turmoil.

The fact that 31 of sub-Saharan Africa's 49 countries already fall within the 'high' or 'extreme' risk category of Verisk Maplecroft's Civil Unrest Index 2016 underscores the threat of disruption for companies operating in these markets. Countries to watch include Central African Republic, Sudan, Kenya, Ethiopia, DR Congo, South Africa and Nigeria.

The risk of civil unrest is expected to be compounded by a strong El Niño event extending into early 2016, which may increase the cost of food staples due to lower rainfall affecting agricultural outputs. Verisk Maplecroft's Food Security Index 2016 shows that all but five African countries are considered 'high' or 'extreme' risk.

The end of the commodities boom that fuelled Latin America's decade-long growth has laid bare the profligacy of South America's two largest economies, Brazil and Argentina, and the largest oil producer in the region, Venezuela. Lower commodity prices, coupled with chronic economic mismanagement, dealt heavy electoral losses to the ruling parties of Argentina and Venezuela in late 2015. Both countries will experience a rise in political instability as they make the painful adjustments necessary to get back on a more sustainable growth track.

In Brazil, corruption and economic recession will dominate the political landscape. The ongoing impeachment process against President Dilma Rousseff is unlikely to be successful, but it will ensure protracted legislative gridlock during 2016 and prevent the passage of the reforms required to arrest the deteriorating fiscal landscape and restore investor confidence. The mass anti-government protests witnessed in 2015 are set to continue and could spike in the run up to the summer Olympic Games in Rio de Janeiro.

The region's economic problems are compounded by social concerns over graft in 2016, increasing the risks of political and civil instability, as the newly formed lower middle class see their socio-economic gains threatened or reversed. Verisk Maplecroft's Corruption Risk Index 2016 identifies Argentina, Colombia, Ecuador, Peru, Venezuela and Brazil as posing a 'high' or 'extreme' risk.

Global terrorism risk

Verisk Maplecroft recorded an estimated 7,750 conventional terrorist acts in 2015 and the company doesn't expect the global risk from terrorism to diminish in 2016, with the Middle East and Africa on the frontline in the fight against fanatical and violent Islam. Islamic State will remain resilient in Syria and Iraq, despite the international coalition's efforts to defeat the group. This is partly at least due to a lack of alignment in the agendas or methods employed by key local, regional and global powers involved in Syria and Iraq.

As the international coalition doubles its efforts to eradicate Islamic State, the group is expected to add momentum to its terrorist campaign well beyond its heartland in Syria and Iraq. Armed groups which have pledged allegiance to the Islamic State in such countries as Egypt, Libya and Nigeria will figure prominently in 2016, exacerbating existent security concerns in these countries. As made abundantly clear during the November 2015 Paris attacks, Western intelligence agencies will continue to struggle to manage the risk posed by returning western members of the Islamic State and lone wolf attackers at home.

Migrant crisis

For Europe, populist parties will seek to drum up further support amid the ongoing inward flow of migrants. Public disillusionment with the EU, the uneven pace of economic growth in the eurozone in combination with concerns over record levels of migration into the European club, will sustain pressure on the political mainstream. This could make government policy and legislation less predictable and less conducive to business.

Whether the UK has a future in the EU and whether Greece can hold onto the euro will likely be determined in 2016. A negative vote in a UK referendum on the issue would cause months of severe uncertainty for business within the United Kingdom and mainland Europe. Meanwhile, Greece's future in the common currency will depend on Athens' continued readiness to execute painful structural economic reforms and service national debt (and whether the reforms can succeed).

Geopolitical tensions

Geopolitical tensions will remain acute, if not intensify, in a number of regions of the world in 2016. Tehran and Riyadh will almost certainly not bury the hatchet, instead intensifying their struggle for influence and power in the Gulf, Levant and beyond. Intensified conflict through proxy forces could increase the risk of disruptions to business operations and supply chains in the MENA region. The execution by the Saudi authorities of prominent Shi'ite Sheikh Nimr al-Nimr in early January has caused a full rupture in bilateral diplomatic ties, with Iran's supreme leader predicting divine vengeance.

Supreme Leader Ali Khamenei may increasingly pursue a more confrontational foreign policy in a bid to appease hard-line elements in the Revolutionary Guard and clerical establishment who oppose the nuclear agreement that was signed by Iran and world powers in July 2015. The test-firing of Iranian rockets near American warships in the Strait of Hormuz in late-December is a case in point.

Russia's President Vladimir Putin has engaged more closely with western countries in the fight against the Islamic State and has at least temporarily reduced the number of Russian resources committed to the Ukraine conflict. However, western sanctions are unlikely to be dropped in 2016. It is no coincidence that Russia is classified as 'high risk' in Verisk Maplecroft's Legal and Regulatory Environment Index 2016.

The crisis between NATO member Turkey and Russia over the shooting down of a Russian fighter jet in December 2015, the Russian government's continuous support for Syrian President Bashar al-Assad, and, importantly, Moscow's refusal to stop meddling in Ukraine will, to varying degrees, remain points of friction with the United States and Europe.
Related Articles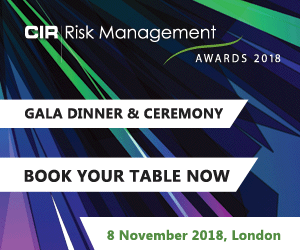 Download the latest
digital edition of
CIR Magazine
Power transmission and distribution risk
Description
Mark Evans talks to Barry Menzies, head of MIDEL ester-based dielectric fluids, at specialist manufacturer M&I Materials, to discover how ester fluids can help reduce the risks associated with transformer applications.
Most read stories...