Polar Code guidance issued
Written by staff reporter
2017-01-03
A new set of industry standards has been released to provide critical risk mitigation directives and support to underwriters writing marine risk in polar waters following the introduction this month of the new Polar Code, a code of practice for ships operating in the Arctic and Antarctic, which came into force on 1 January 2017.

Led by London based lawyer Michael Kingston, representative of the International Union of Marine Insurance (IUMI) at the International Maritime Organisation (IMO) on Polar matters, Lloyd's, in conjunction with the Nordic Association of Marine Insurers (CEFOR), IUMI, and Lloyd's Register, with the close cooperation of the Arctic and Antarctic States, has helped establish a single ice regime system (POLARIS), to give guidance for a range of planned and possible situations that might emerge when operating a ship in Polar waters, for use in pre-planning and actual operations.

Commenting on the launch of the Polar Code which incorporates POLARIS, Michael Kingston said: "Lloyd's and Lloyd's Register have helped improve significant international regulation for the protection of seafarers, the environment and the indigenous peoples of the Polar Regions. This is an example of what we can achieve when we work together in industry and with governments and international regulators. It is also a demonstration of the importance of the maritime strength of the City of London."

The Polar Code, recently negotiated at the UN IMO, is a binding international framework that protects the two Polar Regions – the Arctic and the Antarctic – from maritime risks.

The key element of the Polar Code is the requirement for any ship operating in polar waters to have a Polar Waters Operational Manual (PWOM) which sets out how the crew will respond in a worst-case scenario in the anticipated conditions that may occur in the planned voyage. If the PWOM is appropriate, only then should the operator receive a Polar Ship Certificate from their Flag State.

The Polar Code will apply initially to vessels greater than 500 tonnes and requires ship owners to have in place contingency plans for all aspects of marine operations including safety of navigation, pollution incidents, ship structure requirements, and search and rescue plans.

Lloyd's head of innovation, Trevor Maynard, hailed the Polar Code a "game-changer" for a number of reasons. "It improves the safety of seafarers; it encourages a safer approach to operating in important wilderness areas; and it helps protect the living environments of indigenous peoples," he said.

Tom Boardley, Lloyd's Register's executive vice president and global head of corporate and external affairs, said the new Code brings a well-needed baseline of international requirements for shipping in all Polar Regions and is different to most existing regulation because it is, in part, goal-based rather than prescriptive. He added LR can also assist operators navigate their way to compliance with an interactive toolkit developed with a wealth of Arctic expertise.

It is anticipated Lloyd's market practitioners will take part in the first meeting of the Arctic Shipping Best Practice Information Forum, a proposal for which is due to be established by the eight Arctic governments (Arctic Council) in early 2017.

The Forum will be a chance to discuss the Polar Code, best practice in relation to marine operations in the Polar Regions, and harness the best standards available for operators to include in their PWOM. It will also generate data that insurers can use to enhance their modelling of risk in the Polar Regions.

Lloyd's has played a central role in the creation of the Forum, and is planning to co-host the inaugural meeting on 5-6 June 2017 with Lloyd's Register.
Related Articles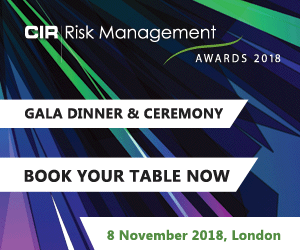 Download the latest
digital edition of
CIR Magazine
Power transmission and distribution risk
Description
Mark Evans talks to Barry Menzies, head of MIDEL ester-based dielectric fluids, at specialist manufacturer M&I Materials, to discover how ester fluids can help reduce the risks associated with transformer applications.
Most read stories...