Payment default in Eastern Europe expected to worsen
Written by staff reporter
2017-05-26
Businesses trading with customers in Eastern Europe are being warned to expect a potential increase in payment defaults, according to a report from trade credit insurer Atradius.

Its Payment Practices Barometer analyses payment behaviours of businesses with the latest report focusing on Eastern Europe, including the Czech Republic, Hungary, Poland, Slovakia and Turkey. The report reveals that 86% of Eastern European customers have paid their B2B invoices late over the last year. For 58%, the reason was attributable to customers' liquidity issues – compared to 52% of Western European businesses. The report highlights Hungary as experiencing the highest number of liquidity related late payments at 78%.

Atradius also found that 45% of the average total value of B2B invoices billed to Eastern European countries remained unpaid after the due date – slightly higher than the 42% average for Western Europe. On average, 10% of B2B invoices with Eastern European companies became delinquent – unpaid 90+ days after the due date – and 1% written off as uncollectable.

"The growth outlook in some regions and countries across the world appears to be brighter than before, but risk is still a significant factor," notes Richard Reynolds of Atradius. "Political uncertainty in the Eurozone is weighing on the region's medium-term growth outlook. In emerging Asia, China's economy, while still enjoying high growth of 6.5%, is slowing from 6.7% last year. In Eastern Europe, the structural weaknesses and negative impact of sanctions on productivity and investment continues to weigh on growth in Russia. The close trade ties among world regions means that a deteriorating business and economic climate in one or more markets could have negative impacts in other markets also, with potentially negative consequences for the global insolvency environment. Against this backdrop, a strong focus on the management of trade credit risk is essential to maintaining the financial viability of a business."

The consensus view among Eastern European businesses is that there will be an overall deterioration in the payment behaviour of their B2B customers over the coming 12 months. In particular, more respondents (26%) anticipate deterioration rather than improvement (16%).
Related Articles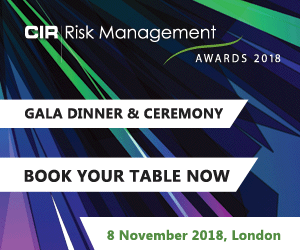 Download the latest
digital edition of
CIR Magazine
Power transmission and distribution risk
Description
Mark Evans talks to Barry Menzies, head of MIDEL ester-based dielectric fluids, at specialist manufacturer M&I Materials, to discover how ester fluids can help reduce the risks associated with transformer applications.
Most read stories...