Marriott data breach highlights risk of continued cybercrime growth
Written by staff reporter
2018-12-03
The Marriott International data breach revealed last week - one of the largest on record - is indicative of the potential exposure that many organisations currently face, experts have warned.

The records of 500 million customers of the hotel group's Starwood hotel brands - which include W Hotels, Sheraton, Le Méridien, and Four Points by Sheraton - have been compromised by an unauthorised party. The company said an internal investigation found that an attacker had been able to access the Starwood network since 2014. Marriott-branded hotels use a separate reservation system and are not affected.

Kevin Curran, Senior IEEE Member and Professor of Cybersecurity at Ulster University, said: "This is not the largest data breach by any means although 500 million is no small number and potentially a very sensitive data breach. The sensitive data stolen in this breach can be used by criminals for identity theft where they could convince targeted individuals to give up vital, personal infomation, like a password or access to banking sites. The more convincing a phishing email is - the more likely someone is to reply to it."

Within hours of the announcement of the breach, reports in the US suggested at least two legal claims have been made against the Marriott Hotel Group, with one seeking a total of US$12.5bn in costs and losses.

The breach is the latest in a line of high-profile incidents, underlining the vulnerability of many larger organisations. Curran said: "The reason we are seeing so many data breaches this year is simply an indication of where we are in time. We are situated between a time where companies really face no penalties for poor storage and protection of data - apart from reputation loss - and a future world where organisations will be fined enormous sums for allowing data to leak."

He adds that people are also in a "semi-state of ignorance" of safe computing practices. With cybercrime damage predicted to hit $6 trillion annually by 2021, cyber theft is becoming the fastest growing crime in the world. Gartner reports that this rising tide of cybercrime has pushed cybersecurity spending to more than $80 billion in 2016.

Marriott saw its shares fall by up to 8.7 per cent after news broke of the data breach, before recovering slightly to 5 per cent.
Related Articles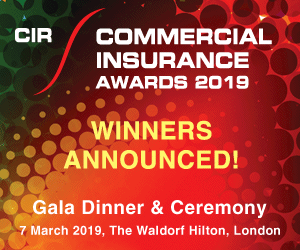 Download the latest
digital edition of
CIR Magazine
Power transmission and distribution risk
Description
Mark Evans talks to Barry Menzies, head of MIDEL ester-based dielectric fluids, at specialist manufacturer M&I Materials, to discover how ester fluids can help reduce the risks associated with transformer applications.
Most read stories...