Lloyd's reports £2.1bn profit, confirms EU subsidiary
Written by staff reporter
2017-03-30
Lloyd's of London has announced a profit of £2.1bn for 2016 despite the combined ratio moving from 90.0% to 97.9%. Conditions over the course of the year were extremely challenging with continued downwards pressure on pricing whilst traditional and alternative capital remained attracted to the insurance industry.

The level of Lloyd's major claims, £2.1bn, was the fifth highest since the turn of the century and above the long-term average. This was due primarily to Hurricane Matthew and the Fort McMurray Wildfire in Canada.

The lower underwriting result in 2016 was offset by significantly improved investment returns, driven by a downward yield shift in the bond markets, and foreign exchange gains, principally caused by sterling depreciation. Additionally, syndicates writing motor reinsurance and direct motor and UK liability business were impacted by the decision to change the discount rate to negative 0.75% (the Ogden tables) applying to lump sum liability claims.

Lloyd's has continued progress across its major global markets: in excess and surplus lines in the United States; transferring over half its managing agents to the Shanghai and Beijing platforms; and being granted final approval to open an onshore office for reinsurance in Mumbai.
Chief Executive Inga Beale said the figures underlined the need for the Corporation, the body that oversees the market, to deliver real value for money; to focus on underwriting oversight and reduce its cost base.

Commenting on the results, she said it has been a challenging year for the insurance sector with premiums once more under continued downward pressure. "It is vital that the Corporation does everything it can to support the market and make the platform attractive, whilst demonstrating value for money," she added. "Our collective focus must be on providing customers with the products they want, embracing innovation and modernisation. The market has shown how well it reacts to the demands of its customers in a rapidly changing risk environment with the considerable increase in cyber coverage throughout 2016 a perfect case in point. It is critical throughout 2017 we continue to demonstrate that Lloyd's is the home for creativity and expertise."

Lloyd's Chairman, John Nelson, said the results confirm that Lloyd's must have an "unrelenting focus on underwriting discipline" through 2017. "The challenge for all of us is to reduce the cost of conducting business because within the market this is impacting on already thin underwriting margins.

"This is my final set of annual results as Lloyd's Chairman, and in the years since we launched our long term strategy Vision 2025, our global reputation and brand has significantly strengthened; we have substantially improved our global market access; our modernisation programme has real momentum; our increased financial strength and overall financial performance is a tribute to the underwriting skills in the Lloyd's market. All of this puts Lloyd's in a strong position both to take advantage of the long-term opportunities available to us globally in the specialist insurance market and to face the many challenges we have."

Brexit

It was also confirmed that, following Brexit, an additional subsidiary office will be opened in Brussels with the intention that it will be operational for the January 1st renewal season in 2019.

Commenting on the decision and the insurance industry's reaction to the referendum, Ivor Edwards, European head of Clyde & Co's corporate insurance group said insurers haven't been sat waiting for Article 50 to be triggered.

"Planning for Britain's exit from the EU is well underway as insurance carriers believe they need to take concrete steps for all eventualities by setting up carrier companies in EU27 countries," he said. "Carrier companies are by far the most popular and realistic solution to allow insurers to carry on writing business in the EU post Brexit. But they require time, money and commitment to set up. Fronting arrangements can work but are complicated and not a solution for carriers who want to write significant amounts of business.

"It's not only UK based companies that are affected and who are making plans. There are over 500 general insurance companies headquartered in continental Europe who passport into the UK that are taking steps too."

"The insurance industry will be hoping that the government achieves the freest possible trade in financial services between the UK and EU Member States as part of a new strategic partnership agreement. It remains in everyone's interests that financial services can be carried out efficiently across the continent by a system that provides for mutual market access.

"However, at this point, no-one knows when an agreement might be reached, if at all, nor what provisions in might contain. The industry is watching on with interest, but it's not waiting with baited breath. It's acting already."
Related Articles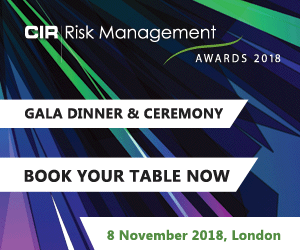 Download the latest
digital edition of
CIR Magazine
Power transmission and distribution risk
Description
Mark Evans talks to Barry Menzies, head of MIDEL ester-based dielectric fluids, at specialist manufacturer M&I Materials, to discover how ester fluids can help reduce the risks associated with transformer applications.
Most read stories...