Lloyd's lays out concerns over risks to growth of drone industry

Written by Deborah Ritchie
2015-08-20
Cyber attack, reckless pilots and privacy breaches are fundamental threats to the drone industry, warns a new report published by Lloyd's, the specialist insurance and reinsurance market.

The drones sector is a dynamic and important component of the global aviation industry, with global expenditure on acquisition expected to double to US$91bn in the 10 years to 2024. However, concerns around safety, security and surveillance need to be considered by manufacturers and users of this technology, says Lloyd's.

In its new study, the insurance market highlights five fundamental risks that it says could harm the sector's future growth. Of these, privacy infringement is cited as the most significant concern as well as the carelessness of drone operators and the vulnerability of the drones themselves to cyber-attacks.

Another key concern highlighted in the report is the regulatory environment, which is developing but is not yet harmonised across international jurisdictions. In addition, because of the rapid and uneven growth of the drones industry, it is proving difficult for regulators to provide strong rigorous oversight without technological support to track and monitor use.

Effective airspace control and collision avoidance technology, the report contends, will be key requirements for the insurance of drones operating in busy airspace.

As a result, insurers are likely to seek greater risk mitigation measures from drone operators. These could include training and accreditation, strengthening cyber security and the completion of privacy impact assessments.

Commenting on the report, Nick Beecroft, Lloyd's Manager of emerging risk and research, said that, while drones have significant potential, they are at the same time a controversial emerging technology. "As the market for drones continues to grow, so does the interaction of risk exposures," he said. "Manufacturers, operators and regulators will need to work together, on a global basis, to understand exposures and ensure this technology is used safely and responsibly."

Civil and commercial use of drones is growing and meeting an expanding range of applications from agriculture, public services, logistics, wildlife protection, media, research, infrastructure and utilities.

Standard drone insurance programmes can cover third party liability (compulsory in the EU for drones that weight more than 20kg), physical loss and damage to the system components during operation or transit. These policies can be tailored to suit individual exposures and may also include D&O, professional indemnity, employers' liability, product liability, cargo liability, terrorism, war and hijacking.
Related Articles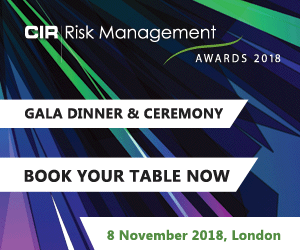 Download the latest
digital edition of
CIR Magazine
Power transmission and distribution risk
Description
Mark Evans talks to Barry Menzies, head of MIDEL ester-based dielectric fluids, at specialist manufacturer M&I Materials, to discover how ester fluids can help reduce the risks associated with transformer applications.
Most read stories...