International Forum of Terrorism Risk Re/Insurance Pools launched
Written by staff reporter
2016-10-10
Pool Re has announced the launch of the International Forum of Terrorism Risk Re/Insurance Pools (IFTRIP). The formation of IFTRIP is the culmination of a Pool Re led initiative, which began at last year's inaugural Congress for National Terrorism Re/insurance Pools Congress, aimed at fostering closer ties and allowing for greater collaboration between the world's terrorism re/insurance entities.

Vice-president of Gareat, Francois Vilnet, has been appointed as the president of IFTRIP, a role which will rotate between the membership on an annual basis.

Julian Enoizi, chief executive of Pool Re, said the launch of the forum represents a defining moment for international collaboration between national terrorism pools. He believes the initiative serves to offer the potential to alter how the insurance industry protects against, and responds to, acts of terrorism across the globe. "Terrorism has become an international phenomenon which knows no borders. Tragic events have provided the catalyst for the creation of IFTRIP," he explained. "However, this organisation can be part of a more robust international response to this grave and evolving threat. I am truly proud that we have been able to come together as an international community with a shared vision of the role in which reinsurance pools can play in better protecting our nations' economies."

Vilnet, who is also head of regulatory affairs at Partner Re added: "We are pleased that Gareat has been chosen by our peers to serve as the inaugural presidency of IFTRIP. This will be a key step in starting the process of increased cooperation between terrorism pools. We are delighted that we will host the next Congress in Paris next summer".
Related Articles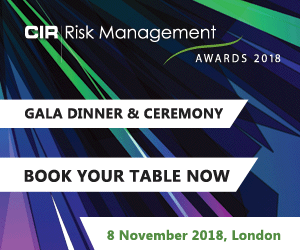 Download the latest
digital edition of
CIR Magazine
Power transmission and distribution risk
Description
Mark Evans talks to Barry Menzies, head of MIDEL ester-based dielectric fluids, at specialist manufacturer M&I Materials, to discover how ester fluids can help reduce the risks associated with transformer applications.
Most read stories...