Insurers expected to withstand Harvey losses
Written by staff reporter
2017-09-01
Losses anticipated from Hurricane Harvey are unlikely to exceed the top reinsurance limits of insurers writing business in Texas, according to figures from AM Best. The recent soft reinsurance market, it says, has allowed primary insurers to obtain favourable terms from reinsurers, including higher limits on catastrophe programmes and extended hours clauses.

In what is an unprecedented flooding disaster in the fourth largest city of the US, Hurricane Harvey is proving to be a major event for commercial insurers. As with Superstorm Sandy in 2012, commercial insurance claims are expected to comprise an outsized portion of overall covered losses from the storm, as flood – rather than wind – has been a driver of damage.

Commercial insurance policies, particularly those covering large and complex properties, may provide some coverage for flood as a covered peril. Given the complex nature of commercial claims related to flood, however, companies are not yet in a position to provide loss estimates.

Additionally, given the scope of the event, it will be difficult to determine final damage assessments as the top priority remains on rescue efforts throughout southeast Texas.

"While earnings for the third quarter 2017 will clearly be impacted, at this time, AM Best does not anticipate that Harvey will prove to be a capital event for the commercial segment overall," said Jennifer Marshall, director, AM Best. "The impact on individual companies will continue to be assessed as the situation stabilises and loss estimates are made available."

The ratings agency does not anticipate a significant number of rating actions related to the hurricane, but does expect to see pressure on performance for regional property and auto writers, particularly those focused on writing business in the impacted area. Currently, it rates 15 insurers with Texas premium revenue accounting for greater than 50% of their total book of business; four of those insurers currently have a negative outlook at their current rating levels.
Related Articles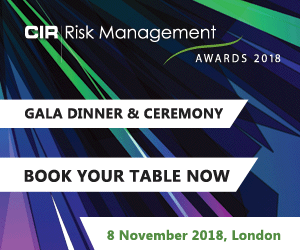 Download the latest
digital edition of
CIR Magazine
Power transmission and distribution risk
Description
Mark Evans talks to Barry Menzies, head of MIDEL ester-based dielectric fluids, at specialist manufacturer M&I Materials, to discover how ester fluids can help reduce the risks associated with transformer applications.
Most read stories...